This week on Days of Our Lives, big dates were planned, Nick continued to scheme, Marlena had an unusual request and we were all left wondering... who's holding those photos? 
Our TV Fanatics Nick McHatton and Christine Orlando are joined by MrsM and Stickywicket from MyHourglass a Days of Our Lives Fan Forum to decide if T has any chance against Nick and who had the most boring story of the week.
------------------------------------------------------ 
Is T any match for Nick? 
MrsM:  Unfortunately, T is no match for Nick. Nick is able to see things 10 steps ahead of everyone else. He sees moves before they are even made and T has no prayer. Poor guy. I actually feel sorry for him.
Stickywicket:  I don't think T is any match for Nick, although I would like to see this storyline play out.
Nick: I personally think so, and I wish T would get an upgrade to contract, but I doubt Days sees T as any match for Nick. The poor guy was already down after overhearing the fake call Nick did with Gabi.
Christine:  I want to believe that Nick manipulating T will finally open Gabi's eyes to who Nick really is…but Nick is Salem's evil genius.  At this moment poor T doesn't have any clue that Nick is playing with him. Nick makes it look all too easy.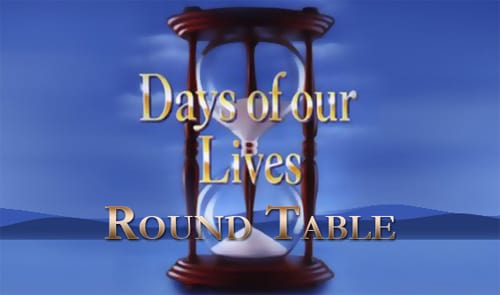 Who do you think has the pictures of EJ and Abby?
MrsM:  I think Nick or Mr. Greetings has the pictures of EJ and Abby, but most likely Nick. He seems to have something on everyone involved with his "death".
Stickywicket:  I am going with Nick. I think this puts the icing on his already cake of blackmail he is going to present to EJ!
Nick: I'm going with Mr. Riggles, the bird watcher/greetings fellow. He has picture of the women dumping Nick, so it's not a stretch to see him with pictures of EJabby.
Christine:  I agree. It's probably Nick. I don't know that he'd use them against Abby but he'll definitely blackmail EJ with them. At that point I kind of hope EJ goes all Dimera on him and he ends up in the river for real.
Were you surprised that Marlena went to Stefano and that her main interest seems to be to take down Nicole instead of clearing Eric?
MrsM:  I'm shocked that Marlena went to Stefano. I can't believe that she hates Nicole that much that she would let Kristen walk and go after Nicole when all Nicole has done is help Eric.
Stickywicket:  Shocked is more like it! I am not sure which surprised me more her asking Stefano for help or her determination to catch Nicole!
Nick: A little surprised considering Marlena's been burned by Stefano before, but she's pretty fixated a proving that Nicole is lying. Plus, there's incentive for 
Stefano to help since he may find evidence against Kristen that he can cover up or destroy.
Christine:  This really made no sense to me. She wouldn't think of going to Stefano to make a deal to clear her son when she knew his daughter was behind it but she'll grovel to try and catch Nicole. I really don't get it. 
Whose date are you looking forward to seeing more, Eric and Nicole or Daniel and Jennifer?
MrsM:  Eric and Nicole for sure. I have ZERO interest in seeing Daniel and Jennifer get back together for 30 seconds before she is mad at him and breaks up with him again.
Stickywicket:  I think each of the dates will be equally interesting. Eric and Nicole because he is leaving the priesthood and this is a BIG first step, but will Nicole's guilt get the best of her and she stop the date before it goes too far? As for Daniel and Jennifer their date has been a long time in coming but I get the feeling their road still has a few bumps in it
Nick: Eric and Nicole. I love them together, and even though Nicole isn't being completely truthful I want to watch their relationship develop. 
Christine:  I'm curious about both. I can't imagine there being two successful romantic dates in Salem at one time so I wonder who gets to be happy and who will get interrupted.
What was your least favorite story of the week?
MrsM:  Honestly, most of this week was lackluster for me. Nothing on the show right now is really speaking to me. Things are dragging and short of the EJ/Abigail tryst nothing jumps out at me as being good TV.
Stickywicket:  I would have to go with the Marlena/Stefano storyline, not because of the actors or the acting. As a long time Days fan, we have been done this road before and Marlena should remember "getting into bed" with Stefano Dimera comes with a high price tag! But there is always the possibility he may just do this free of charge for his "Queen of the Night!" Oh on second thought we are talking about Stefano Dimera…..not a chance!
Nick: I'm growing tired of Jordan's slow story. Her brother showing up needs to bring more momentum.
Christine:  Even though there were times Nick made me want to change the channel because he was so smarmy, I'm going to go with Rafe and Jordan. This story is just so boring. I don't care about her brother. I don't care about her past and I don't care about her relationship with Rafe. I just wish they'd dump this entire story line and move on. 
What was your favorite scene of the week?
MrsM:  Such a hard question for me right now. I guess I like watching Nicole and Eric interact. They are so good together. 
Stickywicket:  I have to go with the Brady/Theresa scene at the club. I think this has potential to be a great storyline. The writers could really kick this up a notch, with John coming back they could also have Shane and Kim return to Salem. It would give some great interactions between all involved. John is very close to Kim and Shane, so this storyline could have many possibilities. Shane is John's best friend and like a brother to Kim. Drake, Patsy and Charlie always had great scenes and chemistry together, from the time John Black first entered Salem.
Nick: Abby trying her best to continually try to win back EJ.
Christine:  Ooh. I love your idea stickywicket. That would be awesome. But my favorite scene was actually Jennifer and Nicole. Despite
C. Orlando is a TV Fanatic Staff Writer. Follow her on Twitter.