Well, all the other Broadway veterans (and Elijah) predicted that this would happen. 
In Girls Season 3 Episode 10, Adam officially became more interested in the play than in Hannah. But did she push him too far?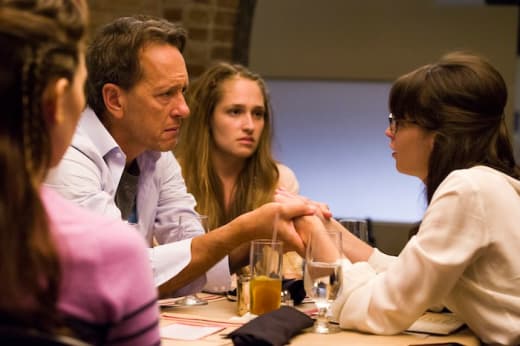 I think we can all agree that Hannah Horvath is a self-focused person and always has been. Back in Girls Season 3 Episode 8 - when Adam first got the part - everyone including Patti LuPone, was warning Hannah that Adam would change. 
He's gonna need you to support him and forgive him, because he's gonna be an asshole.

Patti Lupone
It started out innocently enough, but Hannah does not handle change well. She got wasted with work friends and Adam didn't even seem worried that she never came home. Okay yes, that's odd. Then he didn't want to have sex on the couch because he was focused on rehearsing.
This is his first big role, I can see that he'd want to focus and be prepared. That part wasn't a big deal.
Adam invited Hannah to rehearsal and then let the director kick her out without any sort of objection. Cue the ex boyfriend and current gay BFF Elijah. I don't know why they were in bed eating burritos wearing bandanas but I loved it all the same. Elijah suggested Hannah give Adam a reminder of how good things used to be.
The thing is, I don't even think Adam felt like anything was wrong. He finally got a job that he felt passionate about and he wanted to focus on it.
Hannah needs 100% of his attention 100% of the time and that's just not realistic in any relationship. The whole role-play thing was so awkward, weird and painful to watch that I physically cringed by my third viewing for this review.
This isn't even about the hideous pairing of weird lingerie with granny panties, but the fact that it was so darn uncomfortable on both parties. To be fair, this is what Hannah thought Adam would want. They had a kinky sex life since Girls Season 1.
So that is not Hannah's fault that she read things incorrectly. She's just being so needy.
Adam, on the other hand, didn't need to be so harsh on her. He could've explained that, yeah, he used to have weird kinky sex and treat girls that way because he was a different person then. Now they are in love and the sex is different and better because of that.
Also, when did he decide to stay with Ray? Clearly he's been thinking about leaving Hannah before this incident happened.
I have a job to do now. I have to focus and I'm not here to fill up your life with fucking stories for your fucking twitter!

Adam
So was Adam too harsh or is Hannah too needy? Team Hannah or Team Adam? Vote below and then sound off in the comments.