The "That's what you missed on Glee!" recap is basically everything that the show has cut all season to cover more interesting stuff in NYC.
It looks like Glee Season 5 Episode 11 will be 99.999% Ohio people.
Ooooo, talking about Finn. Is this the first time they've done it casually? I feel like it is and it's sort of sad and sweet and poignant. Followed by MORE talking about Finn. It's suddenly really really dusty here in my living room.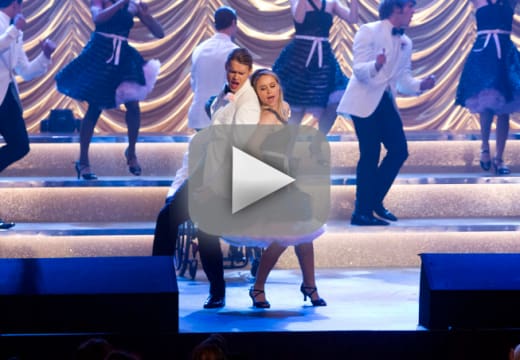 Clearly the show is worried about depressing everyone, because all the Finn-membering is followed by the most cliched L.A. montage ever. Hollywood sign! Tour bus! Vintage cameras!
Mercedes is famous now and makes a joke about a "lame follow-up Christmas album," which I can only assume is the show being self-aware.  
Would a teacher really take 12 students to L.A. without a hotel reservation? Do they not have Travelocity in Ohio?
"Throat Explosion" is almost as good as "The Treble Makers" and if you haven't seen Pitch Perfect you probably won't understand anything I say for the rest of this review.
We even get a PICTURE of Finn? I wonder if some sort of safe, round number of days has passed since Cory Monteith's death and now the writers feel like we're ready.
GOOD LORD, GLEE. Up and down and up and down and my emotions cannot handle this episode.
All the Jake-Marley-Ryder drama happens so long ago that I barely remember it. Or maybe because it was really boring.
The judges are deaf, from the 80's and the Prancersize lady. Clearly this show choir competition is Very Important To Everyone Except Not At All.
OF COURSE Throat Explosion does amazing, because they are the TV version of Pitch Perfect. Who knew a Mr. Roboto/Counting Stars combination would be possible?
Finn's parents tried to leave but came back to give an inspirational speech. This is the Finn episode to make you feel better about how they tried to erase him from Glee history with that Christmas-Episode-That-Shall-Not-Be-Named.
Depressing thought of the night: None of the New Directions were not born when Boston and Neil Diamond released these songs. YOU probably weren't born either.Knowing I Still Haven't Found What I'm Looking For is Finn's favorite song makes me like Finn more and makes me like the Glee version a lot more.
SO MUCH DUST. OMG. My cold, snarky heart has grown three sizes and this is my favorite episode of the season. This is better than the actual Finn tribute episode, although that's partly because I haven't been sobbing so hard I missed half of it. Just some nice, respectable crying.
If Mercedes really wanted to help Marley, couldn't she just record one of her songs now?
I am actually shocked the New Directions lost. Shocked. After all that set up they're going to let them just be sad? NOW I'M DEPRESSED AGAIN. Dammit Glee.
I KNEW this "Finn would be proud" speech was coming and I knew it was going to be cheesy, but it's worse than I thought. I mean, I get it, but it feels like another cliche. I almost wish they had said "Yeah, he'd be SUPER pissed you lost."
Coach Sue is turning the choir room into classrooms and selling the band's instruments to buy computers. That is the most reasonable she has ever been. I love slightly sympathetic but tough Sue, even if I am pretty sure Mr. Shue doesn't care about a stupid computer lab and would rather keep his Glee Club.
Next week: 100th episode! Best songs! Britney comes back and I CANNOT WAIT!
Did you like the way this episode paid tribute to Finn?
Watch a promo for Glee Season 5 Episode 12: