Why have one group of Wesen in one installment when there's room for three?!?
Yes, Grimm Season 3 Episode 15 decided to dole out the familiar Wesen groups with a newer one as well.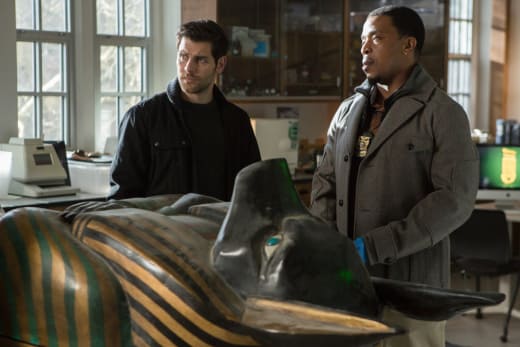 Before starting with the groups, let's get to Wu and his recovery. It's really unfortunate that he's going to be in the dark about the Wesen world some more instead of being let in on the secret.
Wu is talking a big game, but his first real experience in the Wesen world is pretty short. This experience is swept under the rug by his talk with Juliette, but Juliette's visit with him sparks foreshadowing more than anything. 
In comparing Juliette's Wesen introductions to Wu, Wu's introduction - much like Juliette's - is going to end up being a longer process (here's hoping it's not seasons long). The process needs to haunt him longer and I suspect it is going to get a lot worse before it gets better for Wu as he begins to dip his toes into the Wesen pool subconsciously. 
The case this week is one of the more interesting ones with the Anubis, as we watched the gang discuss what to do with the Beati Pauli and Council. This installment really cements the fact that Nick, Monroe, Rosalee and Hank are their own team first; traditions come second when it comes to loyalty.  
Monroe and Rosalee absolutely fear The Council, yet they don't mind following a council member if it means helping Nick out. Nick is unwilling to play by the rules of his ancestors, telling The council exactly what he thinks of them trying to pull one over him instead of just having a conversation with him.
The Beati Pauli are these interlopers in between with no loyalties.
They're willing to do the dirty work to keep the Wesen world safe from humans. All of these different groups begin to really filter Wesen society as this growing, evolving set of people who have their own dreams and visions for society. It's absolutely fascinating - and here's hoping Grimm begins to play with them a little more.
Back in Europe, Sebastien has finally caved to the pressure and given up Adalind and Meisner's position. But, really, the royal baby is so creepy.
One moment it's making Meisner hallucinate into thinking she's outside, and the next she's hanging out with Adalind. Adalind's flashback to the doctor telling her that the baby has two heartbeats makes me wonder if the baby can be in two places at once. A twin in a sense, but it also makes up for Adalind only having one baby. 
A Few More Thoughts: 
Is it just me or did Grimm's opening title sequence pull a lot of images and references to season 1?
Is Nick's Zombie affliction just going to be swept under the rug now?
I will forever love the name of Cutthroat Bitch that House gives to Anne Dudek's character on House. 
Are you disappointed Wu is still in the dark?