To close out Honey Boo Boo Season 3, this TLC series asked the most frightening question possible:
Where is Aunt Flowey?!?
That would be June-speak for her period and that would be citizens of the world freaking out over the chance that Mama is expecting again.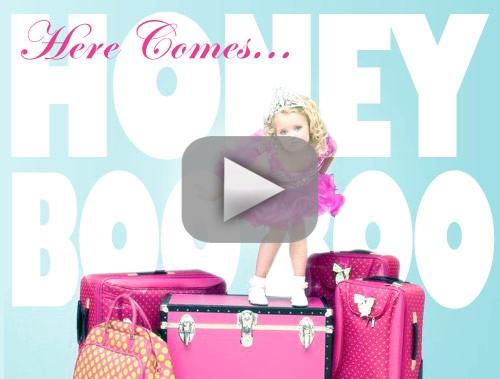 Before arriving at that answer, though, the finale opened with June talking about her "crazy mood swings" and saying the same thing the rest of the planet is thinking:
"I don't  need another kid."
She then gave Alana a lecture about how one's period is like "piñatas in your belly filled with candy" and how blood comes out of the "froot loop." There was then a demonstration about maxipads and absorption… using just water, thank goodness.
From there, Anna explained to her sister that she wanted to leave home to be more independent and work as a cook or a cashier or something. Even though, you know, she failed math and all.
Off to the amusement park for all next! Except for Pumpkin who got sick before she could ride a roller coaster and who ended up with the nickname "Chunkin" from hr mom as a result. That's not bad, June.
With a bounty of "farts in a can" from June and a large stuffed zebra from the park in hand, Alana led the family home after this big day out - and to the moment of truth….
... NO, June isn't pregnant! The test is negative. The family hugs, Alana farts and all's well that ends smelly.
Matt Richenthal is the Editor in Chief of TV Fanatic. Follow him on Twitter and on Google+.