The courage to change.
There's a reason Keeping Up with the Kardashians Season 9 Episode 7 earned this title, as it portrayed Khloe is a sad, confused state, as various loved ones helped her her come to a realization about her marriage.
First, though, we must discuss the "crotch veil," which is a name Kim Kardashian gave to a certain pair of underwear she found while packing for Kanye West's upcoming tour. Hmmm… we wonder why.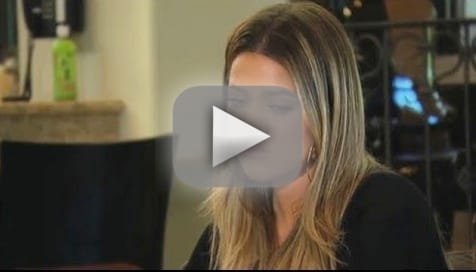 Meanwhile, Khloe paid a visit to Kourtney and Scott as they packed for an Arizona retreat, with the sisters laughing over the resort's menu of services, such as oil treatments and a "bang trim." Scott then thinks they are discussing "semen" instead of "sea minerals."
We almost went 90 seconds there without a sexual reference. It's a new Keeping Up with the Kardashians record!
From there, we're off to the doctor's office with Rob because, well, the guy is getting fat. His mom is worried about his thyroid. And she later has more of a reason to be worried, as doctors tell Rob he'll develop diabetes if he doesn't alter his lifestyle.
We're then treated to what amounts as a commercial for Miraval Retreat in Arizona (note: that's basically what it was; do you really think Scott and Kourtney paid for this trip?), with Scott remarking that it makes their home look like "f-cking Beetlejuice."
Now it's time to get your Kleenex out, folks:
After being thrown off guard in Dubai by a reporter asking about Lamar, Khloe arrives home to an intervention. Kim, Kourtney and Malika are on hand to discuss Khloe's marriage.
What have I been fighting for, Khloe asks through tears. Everyone else also breaks down, with Kim saying they love Lamar, but he ha chosen a different path for his life.
After giving it a lot of thought, Khloe arrives at the hardest decision of her life and tells the family she is filing for divorce. We then see a montage of Lamar moments and a sad Kris Jenner brings the Keeping Up with the Kardashians Season 9 spring finale to a close with:
"I think that Khloé needs to really focus on Khloé right now. And finding her joy again."
Matt Richenthal is the Editor in Chief of TV Fanatic. Follow him on Twitter and on Google+.