Answers! Bo finally uncovered the truth about why she was taken and why she chose the Dark Fae.
Of course, that's if Rainer's trustworthy.
He has his own agenda at play, so for now I'm a tad skeptical. Part of the problem this season has been the lack of answers. It took until Lost Girl Season 4 Episode 9, to even get a clue about what happened to Bo and now there are only four episodes left to sort it all out.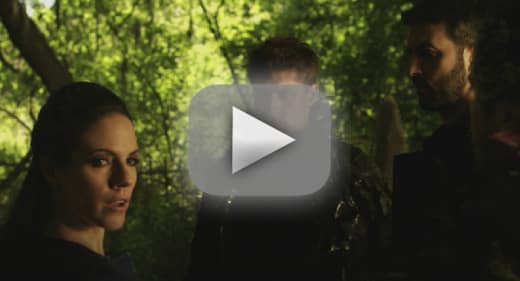 The other main issue I've had with this season has been the weird love triangle going on. Dyson and Lauren have become best buddies over their love for Bo. They banter with each other and don't have any hard feelings about who Bo may chose. It's weird. Neither Lauren nor Dyson are really acting like themselves.
Instead, the dueling lovebirds act like they are under a spell and enchanted to like each other and protect Bo. At first it wasn't so bad, but it's become disconcerting to watch. I miss thel fierceness that they each had as individuals rather than the odd sense of humor that infects each of their encounters with each other, Bo, or even others.
I hope there's an explanation for their behavior other than just becoming friendly and trying to protect Bo. If that's the reason, it feels false to their characters. Plus, whatever happened to Lauren working for the Dark Fae? Unless it's at the Morrigan's bidding, I can't imagine she'd be happy to see Lauren and Dyson being so chummy.
After avoiding Bo and the situation as long as he could, Trick finally sought out answers of his own. He went to someone who could help unlock a memory that he buried away to never be remembered again. Meanwhile, Kenzi and Tamsin searched his lair to find a clue about what was going on.
They all eventually came to the same truth. Trick was responsible for writing Rainer the Defiant out of history after too many people were killed. Tamsin was there and wanted Rainer's soul, but Trick took it instead and banished it. Rainer became the Wanderer due to Trick's actions.
Trick unlocked the memory from his own head, while Tamsin regained the memory through Trick's Blood Book. By the way, Kenzi and Tamsin found and unlocked his blood stash way to easily. I'm glad they got he answers, but Trick needs to come up with better security for both the book and his blood.
Now that they all know the truth about Rainer, how will they help Bo? Bo returned to the Dal with Rainer and proclaimed that he wasn't her father. That was good news, but the truth was perhaps even worse.
I did all of this because he's not my enemy. He's definitely not my father. He's my destiny.

Bo
What?!? Bo purposefully chose the Dark Fae, so she would set off in search for the truth which would lead her to Rainer. And, when Bo was reunited with him, she would be able to free him and they could live happily ever after together. I say again, what?!?
It's an intriguing twist that's for sure. I guess that makes her riddle about which love to pick even more of a false riddle. When Bo returned with Rainer, she appeared happy. I can't wait to find out what happens next. How will her family get her to see the truth about Rainer? Or, is their truth even correct?
I tend to believe that Rainer has to be bad news just because fo the way he manipulated Bo into freeing him. With the information that both Trick and Tamsin unlocked, Rainer is probably not only bad news, but extremely dangerous.
Is Rainer Bo's destiny?
Carla Day is a staff writer for TV Fanatic. Follow her on Twitter and on Google+.