The dead returned in more ways than one on Lost Girl Season 4 Episode 11.
This was a strange episode. It felt like the writers had a hodge podge of ideas that individually wouldn't support a full episode so they mixed them all up together and we got "End of the Line."
It felt even more odd because Rainer was no where to be seen. He's supposed to be Bo's life now, but he took off on his own mission.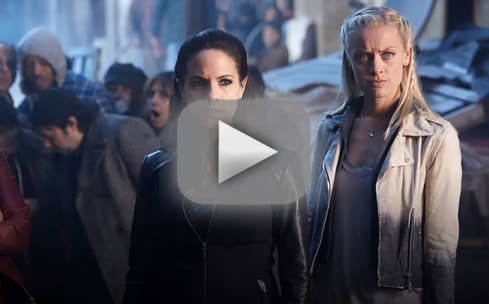 Zombies! A zombie showed up to kill Bo, but Acacia returned to save the succubus. Guess she didn't die after all. Massimo reattached her hand and she was as good as new with stitches. She's now a zombie chaser.  Bo, Tamsin and Acacia went on a mission to find out who was controlling the zombies in order to stop them before more people were hurt or killed.
Is Rainer a good guy or not? That's still a major question.
Acacia and Tamsin believe he went to the battlefield to raise the dead and build a zombie army, while Bo's convinced he's just paying his respects. Either way, these zombies that appeared were not under his control. Instead, Laveau raised the dead to use them to get the last Una Mens seed.
Only Bo doesn't have it. Who does? That remains a mystery. Bo took out the zombies and all was right again. Well sorta. Acacia had a ulterior motive for showing up. She's still afraid of the Wanderer and wants Tamsin to take action against him when she can. Hmm ... not sure Bo will like that.
Rainer was written out of the Trick's history book, but with the curse lifted he started to show up again. That meant he was reappearing in memories, like Tamsin's. When Bo showed Tamsin a picture of Rainer, she didn't recognize him. Does that mean Rainer has come back in a changed body? Or, was it someone other than Rainer that hired her and Acacia? My guess it's the latter. And, that means there's much more than they imagined going on.
While Bo was saving the world from zombies, Kenzi was dealing with family issues. Hale invited her mother to visit in order to ask permission to marry Kenzi. How sweet! His proposal was perfect until the phone rang and Kenzi let her family interrupt what was supposed to be a beautiful moment.
Hale was upset, but Kenzi made it up to him. She wasn't quite ready to be engaged , but she still wanted him. They were happy if only for a moment. Massimo showed up. A NOT DEAD Massimo! He attacked Kensi and then Hale. It appeared that Hale had killed Massimo, but in a heartbreaking moment Massimo got up and stabbed Hale with a sword.
Tears! What a heartbreaking moment! To make the situation even worse, Massimo rubbed his survival in Kenzi's face. It was the Twig that she gave him for payment that saved him from the lava pit and from Hale. Kenzi was responsible for Hale's death. She wouldn't let him go and put her head on his chest.
The heartbreak would only get worse. When Bo showed up, Kenzi begged her to bring Hale back like she did for Dyson. There wasn't enough chi to save him. She took some from Kenzi, but it wasn't enough. Ksenia Solo was absolutely amazing and heartbreaking while embodying Kenzi's grief.
There wasn't anything to be done to save Hale. Well, at least yet. Acacia did mention that dead are never really dead. She and Massimo both returned from the dead, so anything's possible, right? Hale and Kenzi were so good together. 
Hale's death will have a profound effect on all of Team Bo. Perhaps, it will open Bo's eyes and allow her to question Rainer and trust her family and friends again. It's a terrible price, but maybe something good can come from Hale's death. Though, she may have to look past a blossoming Dyson and Tamsin relationship. That should be interesting.
Is Hale permanently dead?
Carla Day is a staff writer for TV Fanatic. Follow her on Twitter and on Google+.