Once Upon A Time Post Mortem: Lana Parrilla & Rebecca Mader Talk Sisterly Shocker
Jim Halterman at . Updated at .
[Spoiler Alert: Do not read any further unless you've seen tonight's episode of Once Upon A Time. Major point revelations are discussed below.]
While we knew from the last moments of Once Upon A Time Season 3 Episode 12 that Zelena - the green-faced Wicked Witch - had taken over Regina's castle and had already been employing her evil, flying monkeys to do some of her dirty work...  I don't think anyone could have predicted the big twist on Once Upon A Time Season 3 Episode 13:
Regina and Zelena are sisters.
The shocker not only raises the stakes, it will surely make the battle between the two even more fierce in the weeks to come.
I was on the Vancouver set recently with Lana Parrilla (Regina) and Rebcca Mader (Zelena) and the stars gave me the skinny on this sibling surprise.
First up: the Evil Queen herself…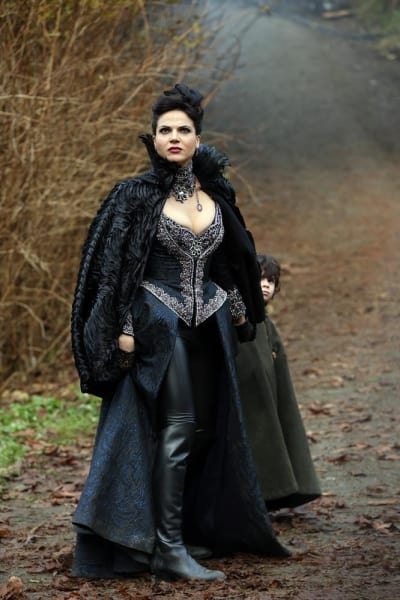 TV Fanatic: What does having Zelena's presence initially mean for Regina?
Lana Parrilla: It motivates Regina. It gives her something else to live for. Because when she goes back to Fairy Tale Land after she breaks the curse or enacts a different curse, she returns heartbroken. She's had to let Henry go, and she did so for the betterment of Emma and Henry's life together.
TVF: Surely Zelena taking Regina's castle is not going to make these two friends.
LP: What people don't know is why Regina's really going into the castle and that's something that you have to see. Tune in and watch, because it's not for the reasons that we all think. She has a secret up her sleeve and once we get inside, we see what she's up to. She takes one companion with her, and it's not by choice. It's kind of forced upon her. And you'll see who that companion is.
TVF: It's obvious Robin Hood has caught Regina's eye. What's going to develop between the two of them?
LP: Well, what's interesting is that there's two relationships going on with Robin Hood. There's the Evil Queen's relationship with Robin Hood, and then there's Regina's relationship with Robin Hood, who's still named Robin Hood. Which is pretty cool, right?
The way I see it is that this woman in two different worlds is in two different places, fundamentally, in just how she sees life at this time. A year prior to her returning, she's at a completely different place. Like I said, her heart is really closed off to any love. She's really lost hope. And then, when she meets this wicked witch, it's like she has a new rivalry. She has something to live for. She has someone to destroy.
And so that kind of sets her off on this whole new journey, and it's really exciting to see what happens in Fairy Tale Land with the Queen.
TVF: What can we expect to see with Regina and Emma, moving forward?
LP: I think with Regina and Emma in Storybrooke, what we see is that she's come to peace with Emma being in Henry's life. She understands that Henry has two mothers, and she's okay with that. Emma is no longer a threat. A 'threat' as she always has been. They've grown closer, I guess, not so much as friends but they've learned how to work together for Henry. They learned how to get along for the sake of their child. So, like I said, they're not besties but they definitely both embody power and magic so they learn how to work together for the greater good.
And now let's check in to get the inside scoop on Zelena…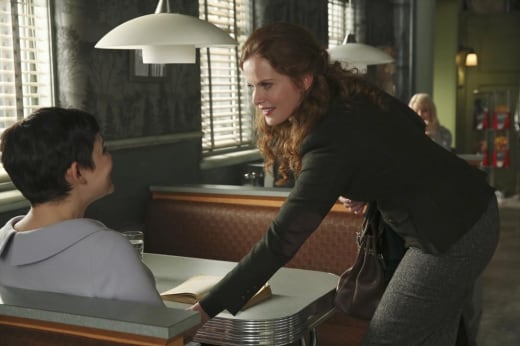 TV Fanatic:  Does Zelena only have revenge on her mind or is there more to her that we'll find out?
Rebecca Mader: I think one thing that's great about the show is that they write the villains in a way where you do feel for them. It's not just a one note villain. They've shown things that happened in Rumple and Regina's past, and even if they're being ghastly in the present day in Storybrooke you know why, and we can all relate to bad behavioral that we've done coming out of past pain.
And they did promise me in the beginning that 'we'll show why you've become the way that you are. So you're not just the token bitch on the show.' And they have done that with my character, which makes it so much more interesting and less annoying that someone's just out for revenge, you understand why, which makes it that much more interesting. Yes, she's out for revenge, but all of the reasons why make it more colorful and more interesting.
TVF: Talk to me about the Zelena-Regina relationship.
RM:  Well, it's a new relationship. I mean they haven't met before I appear. So it's like discovering all of that too, and she's tied in with the whole seeking revenge and things like that and the past hurts.
Well, Zelena obviously knows they're sisters first. So this comes as a complete surprise to Regina, and that brings along loads of stuff for her for not knowing. But for me, she got the life that I was supposed to get and that's where the pain comes from and all the hurt, and that's what the vengeance and the revenge all stems from, because up until my arrival into their world, my life's been pretty crap so Zelena feels incredibly wronged and is in a lot of pain and it's a lot of projection.
TVF:  Does Zelena have any regret about anything she's doing at any time, or does that not even come into play because she knows what she wants and that's what she's getting?
RM:  Well, there's so many different phases of my life being shown. There are definitely past regrets, but it's mostly coming from a place of hurt as opposed to regrets and mistakes that I've made personally. It's more like other people have made mistakes and that has caused me pain.
TVF:  How's it been working with Lana?
RM:   Wicked. Yeah, it's been wicked. We get on really, really well. I just love working with good actors and I've had a lot of scenes with Lana and I think we have really good chemistry because we really get to go toe-to-toe.
There's a conversation I had with Adam and Eddy before I even started and they were like, 'Oh my God, wait until you see 313. She's going to come at you' and I thought I'm just going to let them finish. 'She's going to do this, and she's going to do that,' and I said, 'Well, then she'd better be ready,' and they're like, 'That's why we f**king hired you! That's why you're the f**king Wicked Witch!' I'm like, 'Well, then she better buckle up for safety.' So she and I, we're both good, we're both strong and it's a real toe-to-toe, which is fun to work with a strong beautiful talented actress.
TVF:  There are a lot of nice looking guys on the show. Does Zelena have her eyes set on any of them?
RM:   Yeah, but I can't say. She definitely has a heart and has feelings, and that's what's interesting and you will get to see that. That she isn't just dead inside and got a black-green heart, you know what I mean? She definitely has feelings and I think at this point, in the present day, they're pretty much probably shut off because she's in so much pain, but you do see in the past that she has feelings for somebody else.
Once Upon A Time Season 3 airs Sundays at 8 p.m. on ABC.
Jim Halterman is the West Coast Editor of TV Fanatic and the owner of JimHalterman.com. Follow him on Twitter.