A year ago in the Enchanted Forest, Regina and Robin Hood snuck into the castle to disarm the protection spell.
Just as Regina was considering putting herself under a sleeping spell so she could avoid the pain of losing Henry, she ran into her new nemesis, the Wicked Witch. 
But it was also revealed in Once Upon a Time Season 3 Episode 13 that the witch has a very special connection to the Evil Queen. They share a mother and Regina's half sister who was given away as a child is out to make Regina suffer a fate worse than death.
A year later in Storybrooke, no remembers how they got there, including Regina but she agrees to team up with Emma to find out. 
The Wicked Witch, masquerading as Zalina, a mid-wife befriends and unsuspecting and very pregnant Snow White. Meanwhile residents are going missing but when Little John is found, he soon turns into a flying monkey.
And in one last unexpected twist, Rumpelstiltskin is alive and being held prisoner by the Wicked Witch.
You can catch up on all the wicked goodness. Watch Once Upon a Time online here at TV Fanatic.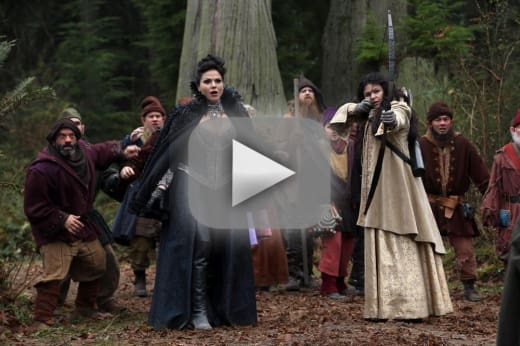 C. Orlando is a TV Fanatic Staff Writer. Follow her on Twitter.