"The Tower" had Prince Charming climbing up Rapunzel's hair to save her, but little did he know she had the power to save herself. She only had to face her fear. 
A year later in Once Upon a Time Season 3 Episode 14, Charming had to face his own fear in the form of himself wielding a sword. When he finally admitted that he feared failing both Emma and the new child he was expecting, he was able to banish the physical form of his fear...but the sword he used to do it disappeared in a puff of green smoke.
Regina explained that the sword had become a symbol of his courage and the Wicked Witch had taken it.
Emma, Hook, Regina, and David find the farmhouse where the Wicked Witch has been hiding out. She's not there but there's an empty cage with lots of gold spun for straw. They realize that Rumpelstiltskin is alive.
Don't miss a magical minute. Watch Once Upon a Time online here at TV Fanatic.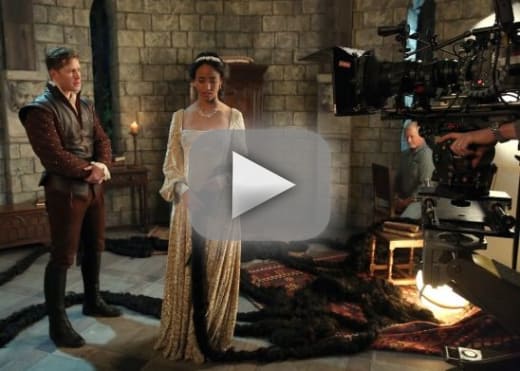 C. Orlando is a TV Fanatic Staff Writer. Follow her on Twitter.