Pretty Little Liars Review: Bridal Horror

Teresa Lopez at . Updated at .
As the penultimate episode of Pretty Little Liars Season 4, I was expecting tonight's installment to be a little on the light side.
For the most part, it was; however, there was some edge-of-your-seat moments that made the ending more enjoyable than the rest of the episode.
Pretty Little Liars Season 4 Episode 23 returns to heap more suspicion on Mrs. DiLaurentis, who has certainly been acting much kookier lately (although if we're being honest, she's always been a bit off). While I enjoy her slightly menacing crazy look, she doesn't seem as intimidating as the previous suspects. And that really drew away from some of the tension tonight.
So, is Mrs. DiLaurentis A?
The show seems to be indicating that Mrs. Di's attitude towards Spencer has more to do with history than any A drama. If Jason is to be believed (more on that below), his mother thought Spencer was the one harassing Alison.
And if Mrs. Di believed any of Spencer's insane ramblings back in Pretty Little Liars Season 4 Episode 21, then it's possible she has reason to stare psychotically at Spencer and seem generally menacing towards her. But it seems strange that she doesn't want the police to re-open the investigation into her daughter's disappearance and death. Unless she had something to do with it, or with the body in the grave.
But what do about Jason? A recently fired Dean reveals that the rehab center Jason claimed to visit had been closed for two years. So where was he? Working with mommy perhaps?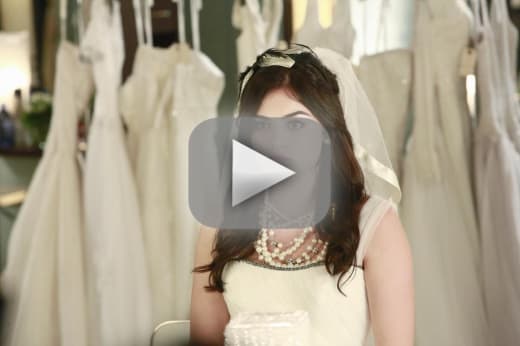 It looks like Mrs. Di is involved in something with Jason; he could have been that mysterious figure that was handed a suitcase before the bridal show. Perhaps the DiLaurentis family is being tricked by A somehow. They are desperate for the truth, so they might believe anything anyone told them.
But Jason's motivations have always been a bit shaky to me. He is the last known member of the N.A.T. (remember when that was a thing?), so is some other member trying to kill him? Or is he the one taking out former members? Was it really Wilden who tried to kill him and Emily in that elevator?
This episode really generated waaaay more questions for me than anything else. Although when Spencer was basically chasing a shadow in the woods, I was really worried that she had gotten her foot caught in that bear trap. Plus, those creepy finger bones in her corset were really spooky.
The whole night seemed to make us wonder - could Spencer have killed someone else that night?
It looks like we'll be getting some answers next week now that Alison has re-emerged. Emily's clever sleuthing lead to a rare phone call from Alison, and, surprise, she told them to come meet her in Philadelphia. Apparently she's finally going to give them (and us!) some answers about what happened that night.
Naturally, she isn't going to know as much as we might hope, but let's hope we at least find out:
Who tried to kill her?
Where has she been all this time?
Who is/was A?
Who's body is in that grave?
And it looks like someone might have made it to Alison's hiding place before the liars.
Who do you think it is?
Watch this promo for Pretty Little Liars Season 4 Episode 24 and prepare to be SHOCKED: