Yes, I'm cranky, too.
I know we were all primed to finally have whatever man, woman, child, or manimal that is the 'darkness' revealed in this hour. That's certainly where I had thought Reign Season 1 Episode 16 was going, and I was a little bummed to see the whole thing dispensed with so quickly, and with so little explanation.
If the whistle that signals the arrival of the 'darkness' was blown, where was, you know, the darkness? Why didn't it devour Bash and Francis while they were struggling on the frozen pond?
But if the episode lacked for mystical answers about the inhabitants of the woods, it certainly wasn't light on domestic terror. King Henry has gone full-on American Psycho - French Psycho, if you prefer - losing his hold on reality and killing anyone who looks at him funny.
What the hell is going on with this king? While I know nothing about... well, anything... but especially mercury poisoning, my vote is for some kind of accidental poisoning inducing his madness. He's always been a dick, but there's quite a line between being a dick and being insane, no?
And murders and mutilations aside, I hate the effect his madness is having on Queen Catherine - it's making her miserable and depriving her of her joie de vivre, which has the end result of depriving me of her traditionally excellent Reign quotes.
Won't someone think of the children/ recappers?!
The only thing I am sure of is that this is all going to end poorly for tricky little Penelope. Do you honestly think there's any chance that she'll make it out of this plot arc with her head still functionally attached to her body?
The only other thing I'm sure of is that Kenna and Bash's wedding, as funny as it was, will be annulled the second King Henry comes to his senses and/ or dies.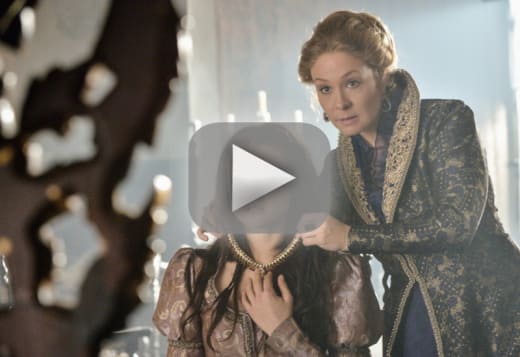 Official Reign Fashion Watch: 8/10. More like Official Reign CapeWatch this week, am I right? But capery aside, Mary's dresses were particularly striking and Versace-ish - which I now understand, after having interviewed wardrobe designer Meredith Markworth-Pollack, is totally intentional.
And Kenna's wedding gown was almost mod, the perfect look for any Lady weeping her way down the aisle on her big day.
Official Reign CakeWatch: 10/10! Oh my god, that cake looked delicious. (Yes, I'm on a juice cleanse, why do you ask?)
We'll meet the darkness in the woods soon enough, I'm sure, but until then, let's discuss the darkness at home:
What is the source of King Henry's madness?