Revolution Review: Children of Men
Nick McHatton at . Updated at .
The story of The Patriots was beginning to come together on Revolution Season 2 Episode 16. 
Sadly, The Patriots are just as monstrous as we've been led to believe.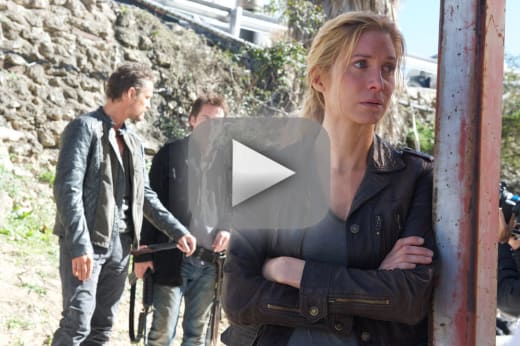 The Patriots have no problems using children for their own personal gains, reeducating them to killing machines. It's clear from the flashbacks they are Americans in name only as they reshape the continent into their own new image; letting their past ideals die off as much as the population will do.  
Reading the number tattooed inside their eyelid reignites their killing machine tendencies, and when they finally wake up from the trance there's no recollection of them eve doing anything.
The Patriots are splintering off from one faction, while Monroe and Miles are beginning their own frictions once again as well. 
Monroe has no problems killing children because he's in a turf war with The Patriots for his old land. He wants revenge and he wants to build his father-son empire.
Miles, on the other hand, is deferring to a Rachel a lot, who is absolutely sick of all the bloodshed when it comes to their options. It's a divergent way of thinking for Miles and it's not a  way he's entirely comfortable with. 
Miles is questioning his own moral choices and this internal dilemma is what is causing problems for Miles when he can't even answer Monroe's question of what he really wants.
Miles has been wandering since he quit the Republic, but his love for Charlie has grown since he met her. At some point, I think Miles really wants the one thing he lost: Rachel. He wants to rebuild a life with her rather than screwing it up the first time. 
Tom, conversely, wanders to whoever can give him the most power for the situation. Tom wants to make sure he's doing whatever he can to rescue Julia - and if that means he needs to climb a few more social ladders, smooth talk his way past powerful leaders and be a chameleon in every way possible... so be it.
Finally, Aaron and Priscilla are working their way back to Willoughby to meet up with everyone else and the ending clears everything up: the nanotech is inhabiting Priscilla.
The nanotech, for having a God complex, are surprisingly human with their desire to grow closer to their creator. Yet the big question that comes out of this is whether or not Priscilla is actually alive somewhere in there. 
Is Priscilla still in there?