Scandal wasted no time revealing the identity of Jake's final shooting victim this week. R.I.P. James! But that wasn't all that took place on Scandal Season 3 Episode 14.
Andrew and Mellie got a little closer on a campaign finance trip while Sally wasted no time cozying up to the NRA to fund her election campaign. Fitz, however, took an alternative approach to gaining new voters.
Olivia wrestled with the information that Jake shot her friend and what his role as Command means for him and for their relationship, whether they're just friends or something more. Jake wrestled with his role as Command, too.
And Huck and Quinn did some dental work of another kind in what might have been the episode's biggest shocker.
All this and more went down on this week's episode. You can watch Scandal online now to get yourself all caught up!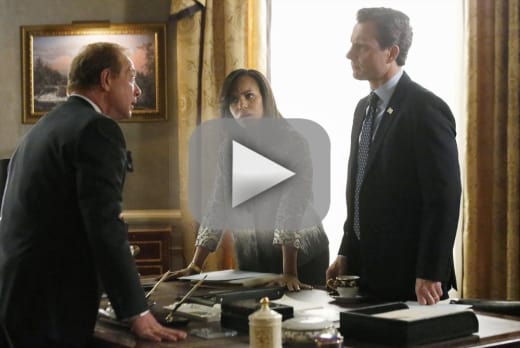 Miranda Wicker is a Staff Writer for TV Fanatic. Follow her on Twitter.