I'm gonna go out on a limb and say that anyone who has shipper feelings about the characters on Star-Crossed, were VERY happy at the end of Star-Crossed Season 1 Episode 7.
So which couple was it? Read on to find out!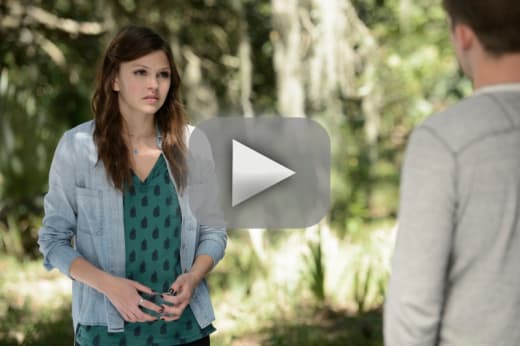 Okay, so actually more than one duo were caught flirting on this week's episode, but the one we are all gasping about is Roman and Emery. One thing I will say is that Matt Lanter and Aimee Teegarden really brought it for that scene. 
How did we finally get there?
Well, after confessing his feelings on Star-Crossed Season 1 Episode 6, Roman went to Emery's to talk to her. Coincidentally, she was on her way to see him, but was stalled when an upset Grayson showed up. After all, Grayson's mother was just arrested for plotting a terrorist attack.
Things were put on hold as Emery played the dutiful sort-of girlfriend. She even agreed to go with Grayson this week to visit his mother, but when Lukas ended up as the victim of Zoe's nasty prank, her priorities shifted.
Zoe planted Black Cyper in Taylor's car, but Lukas ended up being the one who inhaled it. Taylor got a little, but I think Drake's comforting made it all better. Draylor is so on.
I must say what a joy it is to see Greg Finley play a character like this. I spent several years watching him when I reviewed The Secret Life of the American Teenager and he was always following Grace around like an eager puppy. I like this BAMF side of him!
Drake and Roman are a great team and I'm glad Drake is finally seeing how poisonous, no pun intended, the Trags really are. As Lukas's best friend, Emery insisted on tagging along and Roman finally clued her in.
Emery: Okay we're not going to do this again, the whole "I can't tell you for your own protection" crap.
Roman: You're better off not knowing.
Emery: That's for me to decide. Like it or not I'm in this now. You really wanna protect me? Let me know what we're up against.
It all built up to the scene in the abandoned boathouse with Emery trapped behind a wall of Black Cyper spores while Drake was outside kicking Zoe's ass. Never thought I'd see the day of Dora Madison Burge as the villain!
As the boathouse full of Cyper exploded, Roman grabbed Emery and they dove in the water. While underwater he gave her oxygen since he can breathe through his skin and all. The underwater tongue twister, led to an epic "we're alive and back on land" kiss.
Other Tidbits
It was great to see Sofia be the one to help Lukas. She's right, she has human friends too.
Are Eric and Julia headed for some romance? My oh my some of these characters have really changed since Star-Crossed Season 1 Episode 1.
Hot teacher Eva knows that Julia has Cyper in her blood. Uh oh.
Sucks that Grayson's mom told him Emery led the reporter to the meeting and then he saw her kissing Roman. Grey Damon, I'll comfort you!
What is Castor really up to?
So how great was that Emery kiss?