Whenever a big national event occurs, people have a story of where they were and how it affected them. This is true of real life events like the assassination of JFK and 9/11.
On Star-Crossed Season 1 Episode 3, we experienced various people's memories of Arrival Day.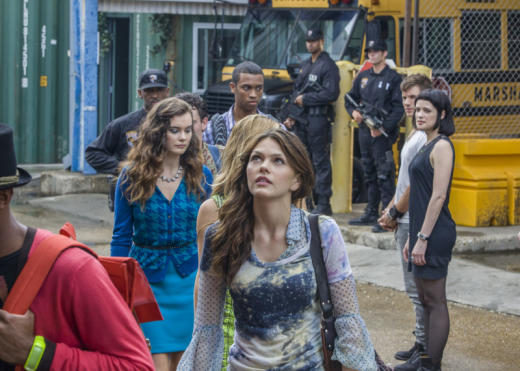 The common denominator between the humans and the Atrians is that there seems to be a lot of anger and sadness. A lot of lives were lost as we saw in the fighting on Arrival Day in Star-Crossed Season 1 Episode 1.
There is also still the curiosity surrounding the story of how Grayson's lost his brother, who was in the National Guard. What we do know at this point is that whatever happened lead his parents to become Red Hawks. We saw at the end of last week that Grayson was a Red Hawk, but do you think he truly believes in it?
Or do you believe him when he told Emery it was just his parents' views?
On the other end of the spectrum, you have people like Drake. His species crash-landed on earth and he has grown to despise humans to the point that he got initiated as a Trag this week.
I think it's one thing to dislike a group of people and entirely another to join a group of rebels like the Trags who are acting on that hate. I don't think Teri and Drake knew how deeply they were in for it until they watched Teri's mom kill Officer Beaumont with Black Cyper.
I lost half of my tribe. Those who survived were gunned down by your bitch guards. But you don't see me wrapping myself in ribbon like a birthday present now do you?

Drake
Drake's a little too hardcore. Despite what Grayson's true intentions might be, he handled that hallway scene with some very rarely seen grace. Despite Drake getting in his face, he responded with a simple "I'm sorry for your loss." He also added in that his brother wasn't a bitch, but that's fine. No matter how you slice it, lives were lost on both sides that day.
Then there are the rare people like Sophia who want to share experience with the humans and is pro-integration. She welcomed Emery and Grayson into her pod. She played a game with Lukas. Sophia is sweet and her open and welcoming nature is so rare that it's refreshing.
I'm sad to see how easily some of the other Atrians are influenced. Teri really only joined her mother because Roman went on stage at the commemoration and saved the day by talking about Emery's kindness. She made a decision to join a dangerous group out of jealousy. Then, I remembered that this is a group of teenagers and stuff like this happens.
The biggest shock of the episode was seeing that Gloria has a young Atrian son. So how did that happen? It seems obvious that Gloria hooked up with an Atrian after arrival day and now she has a little half-human half-Atrian kid. So where's the husband? Is he off living in the bayou where Castor said an alleged group of missing Atrians might be?
So many questions to be answered but I think this week what I am wondering the most is: Will Drake and Teri survive able as Trags?