Supernatural Review: Soul Ride

Sean McKenna at . Updated at .
There may not have been any angels in front of the camera for this week's Supernatural, but one was definitely behind it.
Okay, so it wasn't really Castiel, but actor Misha Collins took a stab at directing an episode that combined the monster of the week with the big mythology to pretty solid effect.
Turning an actor into a director is always an intriguing concept, especially because their perspective of normally being in front of the camera can add a different spice to the equation.
We've even seen Jensen Ackles direct three Supernatural episodes (his most recent being Supernatural Season 8 Episode 3).
But when it came to Collins' work for Supernatural Season 9 Episode 17, there wasn't anything jarring or horrible that screamed for him never to try his hand at directing again. In fact, it felt pretty classic Supernatural. There were even some noticeably cool shots like panning the camera down from the painting on the wall to watching Sam from behind the broken window to Crowley popping in to tell Dean it's like he's the mistress.
Maybe next time, he directs himself? Imagine how that might go.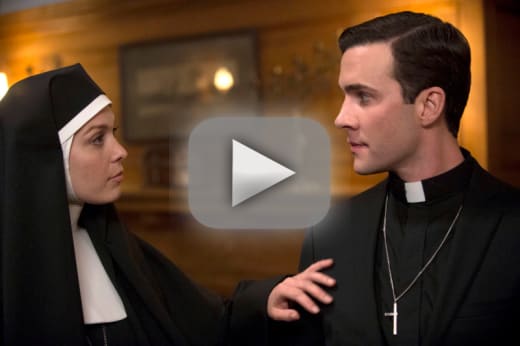 As for the episode itself, it separated Sam and Dean for most of the time before putting them back on the same course.
Dean's arc was focused on the emotions and thought process that accompanied the after effects of using the First Blade in Supernatural Season 9 Episode 16. It was great to hear Cain's voiceover and the flashback of him using the blade combined with current shots of Dean clearly struggling with himself.
The Mark of Cain seriously brings with it some dark tendencies; and Dean's reaction was to just try and drink the problems away. Of course, with Crowley on speed dial and a persistent manipulation, getting back on track to touching the "precious" was no surprise.
In fact, Crowley has such a charisma and way with words that I'm not surprised he was able to coax Dean into wanting to use that blade again. There's obviously a power there, a dangerous one, but I worry that its addictive nature will ultimately be bad for Dean.
Although Crowley is still shooting up human blood, it really seemed to have less of an effect than we've seen before. Maybe he's just more used to it?
I do wonder, though, what ulterior motive Crowley has in addition to eliminating his competition. This is the King of Hell we're talking about, not some buddy buddy of the Winchesters.
But Crowley's plan might be more difficult than he might realize with Sam's discovery Abaddon is harvesting souls for her own army of darkness.
While I'm still trying to mull over the properties and ways souls have been used on Supernatural, I enjoyed getting the callback to soulless Sam from Supernatural Season 6. I was a little surprised he was able to guess the theory so quickly, but it's a pretty neat concept. I'm not too sure how far the series will take it.
And it wasn't necessary, but there was something neat in seeing Henry Winchester again, working with Josie before she was possessed by Abaddon. And, really, taking religion, nuns and making them evil demons was creepy. Not to mention the "holy crap" moments when the "soulless" started bashing people's faces in over the meatloaf or stabbing someone in the hands at the diner.
There was that nice touch of Supernatural scariness for Sam's journey into discovering what Abaddon has been up to. And it's always great to see those black eyes flick on for the demons.
It was even really inventive that Sam was able to use a recording on his phone to try and exorcize a demon. Too bad Siri wasn't able to help say it.
I can't wait for Sam and Dean to be permanently on the same page working together, but seeing them split off here was still enjoyable. I'm eager to see what more the First Blade will do to Dean and how he'll handle it, in addition to Abaddon's plans. And let's not forget there's still angel issues, including Metatron and Gadreel.
Certainly, Collins handled his directing duties in an episode that's getting viewers geared up for the final stretch of Supernatural Season 9.
Will Dean use the First Blade to kill Crowley?
NOTE: The series is off the air until April 15, but here is your first look at Supernatural Season 9 Episode 18, "Meta Fiction."
Sean McKenna was a TV Fanatic Staff Writer. He retired in May of 2017. Follow him on Twitter.