This show does like its themes - and Switched at Birth Season 3 Episode 9 fell into the rule of threes.
Bay was struggling with three issues: Mary Beth's continued concerns about Tank and what kind of man he is, the surgery on her hand and learning the truth about Ty. 
Daphne found herself at odds with three men -- two men (Jorge and Campbell) are in a full-fledged competition for her affections and Daphne wants to be the apple of Angelo's eye.
With Kathryn and John taking a new approach to their marriage and his willingness to help with her book, it's John's own past and his triple that helps Kathryn finish her proposal and brings sparks into their love life.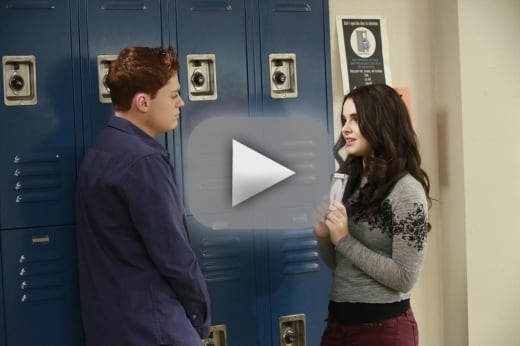 When Bay brought up the topic of Tank to Mary Beth, I thought for certain we were going to discover he was the person who had asked her to the dance. Mary Beth seems so strong and is in a loving relationship with Travis. Believing she's still hurt over an incident that really had nothing to do with Tank was a little difficult to swallow. 
I suppose I can buy that it was all due to the truth she has been hiding from Bay about Ty, but that ship sailed a while ago. Emmett -- again on hand only to provide advice -- pointed out that Tank is here, he likes Bay and he's trying. That says a lot about the man he is. 
Bay is always seeking perfection; or perhaps always thinking the grass is greener elsewhere because she's rarely satisfied with what she has. When she's trying to hash her emotions out with Tank they were interrupted by one of his frat brothers and she made a snide comment about the girls rising up and going all "dogfight" on them someday. Whoops!
Now Tank is going before the fraternity's executive board and could be blackballed. Is this what she wanted all along? Did she say it accidentally on purpose to push the issue?
Jorge and Campbell, meanwhile, have gotten over their qualms about competing for Daphne and are going head to head in an attempt to win her affections. Apparently she really is all that. Dr. Jackson also wants to introduce her to a doctor who may be able to help her move ahead with her plans to study medicine.
Daphne, however, is feeling jealousy over time Angelo spends with Abby. It was easy to see what she was feeling and for once she wasn't so busy burying her feelings that they were annoying. She was just a girl who wanted the love of her dad. Angelo has grown quite a bit and has plenty of love to go around. In his eyes he has three daughters.
My favorite bit was definitely watching Kathryn and John reconnect. John's about face is, well, unrealistic. But I don't care! It's so much better than the alternative and Kathryn deserves it. It's wonderful that he's supporting her decision to write the book and even better that he's giving his own sexcapades to her for use in the story -- the amazing triple. 
Sorry, if you didn't catch on to what it was, you probably shouldn't know. Someday you will. For now just know that there are things that people keep secret in their relationships long enough that when they're finally let out, if timed properly, ignite a fire inside the lovers instead of causing disagreements and that's what is happening with John and Kathryn. 
They're rediscovering each other and falling in love again.
It looks like the only person really outside of the loop is Toby. Do you think we'll ever see Nikki again? I don't. I think their marriage is over. She's found her calling. Ministry was always her wish and marriage was a fantasy. She's living her passion and Toby isn't interested.
He, however, may decide to head to college for a degree in education after how well things went with Sharee. Perhaps his own happiness isn't so far off after all.
Don't forget, you can watch Switched at Birth online anytime you like!
Will Bay ever be happy with a guy?
Carissa Pavlica is the managing editor and a staff writer for TV Fanatic. Follow her on Twitter.