Tension and drama doesn't have to be action packed and over the top. The Americans Season 2 Episode 5 was an intense and suspenseful hour of television... while being understated. 
After the botched attempt to grab Anton Baklanov, Philip babysat  and traded a Mossad agent, while Elizabeth accommodated Martha and met with Brad.
Each of these situations required delicate care while having their personal lives and decisions thrown in their faces.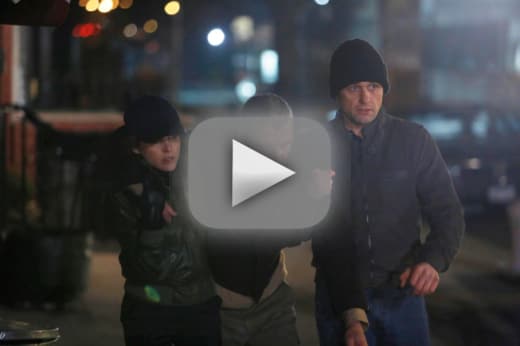 In the series premiere, Philip questioned whether or not the Jennings should continue working for the Soviets or defect to the United States. He was looking towards a future for them and didn't see a happy ending as undercover KGB agents posing as Americans. His feelings about the homeland and America were raised by the Mossad agent and by Baklanov.
The Mossad agent was sure that his country would never negotiate for his release. They wouldn't give up an important asset like Anton Baklanov just to get him back. Would the Soviets do it to get Philip back? The trade came through, but it wasn't about the captive. In Arkady's office, the news reported that the Soviets were allowing 1500 Jews to emigrate to Israel. 
One life for 1500. That's what it took for the Israelis to turn on one of their own. Baklanov was crushed when he realized he was being sent back to the Soviet Union.. Baklanov's wail was utterly devastating though to watch. It was equally tough to see Philip have to listen to the man's diatribe because there was so much truth to it.
Is Philip a monster? Or just a man trying his best to serve his country and help his family?
How could Philip not be affected by that? While on the exterior he held strong and didn't show any emotion, he had to be conflicted on the inside. After Emmett and Leanne's murders, the Jennings were terrified for their own family. And now Philip had to empathize with Baklanov. Despite that, he did his job and delivered him to the ship.
This one man was too valuable to allow personal feelings to get in the way. Besides, even if Philip believed that Baklanov would uphold his offer to work for the Soviets while living with his family in America, it wasn't his call. And ultimately, it wouldn't work. The scientist would be a continued threat to the homeland unless he was in their control.
At the end of the day, Philip went home to his family. It was touching to see him cuddle with Elizabeth on the couch and work through his feelings. He used to have icicle fights. He wasn't the only one who had a rough day Elizabeth needed him in that moment just as much after spending the day with Clark's wife.
How awkward was it for her to hear about Martha and Clark's love life? Oh my! Though, I have to wonder if wild and crazy to Martha is just normal for Elizabeth. I mean these two women are on opposite sides of the adventure spectrum. And Philip was with Martha when he was separated from Elizabeth. Regardless ... awkward!
Elizabeth handled Martha perfectly and saved the day. And Philip owes her big time! Of course, he did have to wipe a man's butt, so maybe they are even. By the way, that was something I never expected to see on television. As it played out, I cringed and each second hoped that it wasn't going to happen, but it did. I can't wipe that out of my mind....
With Baklanov on his way across the ocean and Martha taken care of, the only open case is the murder of their friends. Elizabeth got the file from Brad and then broke up with him, so that's a step towards finding out the truth. 
The only other major event was that Oleg trapped Stan in a reverse sting. The Russian revealed he knows about Stan's relationship with Nina and wanted to make a deal for her safety. I'm not quite sure what to make of Oleg's intentions. Was he trying to help Nina? Or, himself? Or, both of them? We'll have to see how that plays out, but no matter what it's not good for Stan.
"The Deal" was my favorite episode of the season. The nuances were subtle, but clearly demonstrated the internal struggles of the characters, especially Philip. The Soviets got their scientist, but I'm not sure it was really a win for Philip. Right now, I'm most nervous for Nina. She's in a tough spot and it just got so much more dangerous.
Who had the worst day after Anton Baklanov?
Carla Day is a staff writer for TV Fanatic. Follow her on Twitter and on Google+.