The Walking Dead Review: Drinking Buddies

Sean McKenna at . Updated at .
Ugh, teenagers.
Was Beth channeling Carl from The Walking Dead Season 4 Episode 9? I can take care of myself, and I'm gonna get some pudding a drink. You know, because I'm an adult now.
For those hoping to watch a plot-driven hour, The Walking Dead Season 4 Episode 12 was far from it. Instead, the story focused on Beth and Daryl wandering around, scavenging, looking for some booze and getting to know each other.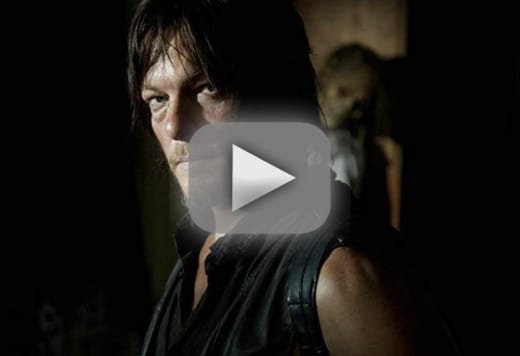 The cold open was a great start, illustrating the frightening look at constantly running and finding unique ways of hiding (that car trunk was awfully roomy). And there are so many times we've seen on this show how silence from the characters can be golden.
Just listening to the growls of the walkers and watching the faces of Beth and Daryl was perfect to set that scary mood.
But it was where the journey decided to go that had me worried everything in this episode would be a waste of time.
Beth wanting to risk life and limb for her first sip of booze? Now you want to let your inner party girl out? Alcohol caused this much trouble when Bob couldn't resist his urges and an entire roof with walkers collapsed in The Walking Dead Season 4 Episode 1. And Beth's boyfriend died.
Still, the walkthrough of the country club was unsettling, with the hanging walkers and bodies that littered the rooms.
Yet, as the episode went on, that simple concept of getting some intimate moments and layers to characters that can often wind up as background began to shine through.
Daryl has always been a strong asset to the show, but he was more than the crossbow-wielding warrior here. He was intense, aggressive and able to open up.
First, with the "Never have I ever" drinking game that was very reminiscent of Kate and Sawyer's drinking game in an episode of Lost.
And, really, the redneck home was the perfect reminder for his old life. It opened up those emotional wounds. I even enjoyed later hearing the story about growing up with Merle and not really having a job besides following his brother around.
Which ultimately made Beth's counter reaction about shedding that old life and embracing the person he's become, the person he is now. Burn that house to the ground and give it the bird.
Also, Beth's acknowledgement about her own character that she probably won't be around as long was very interesting. Really, having these two bond opened them up as people to care about, even if the story and the plot wasn't that search for sanctuary or a mission to D.C.
That said, I'm hoping the show can find a way to take those character moments and allow a story with a certain direction (like heading to D.C.) combine during each episode.
But certainly, for what the hour was trying to accomplish, it was a pleasant surprise. Guess we'll see how long those two can survive on their own now that they've embraced the now and stepped it up from pure survival. Hope they at least saved one bottle of moonshine for the road...
Will Beth die by the end of The Walking Dead Season 4?
Sean McKenna was a TV Fanatic Staff Writer. He retired in May of 2017. Follow him on Twitter.