We'd never mix up John Cena for Juan Pablo Galavis.
But Total Divas Season 2 Episode 1 ended on a cliffhanger that made it impossible not to think about The Bachelor. We'll get to that in a few moments...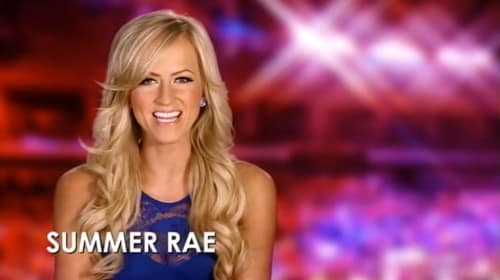 The installment kicked off with meeting backstage led by WWE Senior VP of Talent Relations, as viewers were introduced to the newest Diva, Summer Rae.
She's blonde, she's beautiful and she's paired with Fandango. She'll be traveling with Eva Marie... who, SURPRISE, is not married!
This is exciting news for all Divas, except Nikki because she and Cena split after he told her he did not want to get hitched. The former couple share an awkward glance across the room after the engagement news spills backstage.
(NOTE: The ring is enormous!)
Over in Austin, Brie and Nikki get their makeup done with their mother. It's actually their birthday and the twins are getting ready to celebrate their "dirty 30," with Nikki saying she's ready to "drink her sorrows away."
Nattie climbs into the limo and says her goal is to keep it "PG" for the evening, as evening that involved the Bella twins' mom getting her groove on at the club. There is way too much fist pumping going on.
Vincent, Ariane's boyfriend, also enjoys himself at the club, as he's surrounded by gorgeous women and is dancing with Nattie and, well, this doesn't sit well with Ariane. She shoves Nattie away to dance with her man.
The girls go outside, eventually hug it out and get told by a policeman that they better move along.
Things then get awkward at an autograph signing that included the twins and Cena, especially when one fan asks Nikki about her ex.
But the family visit is too much and Eva Marie ends up breaking down, revealing the truth. Her did is not happy about it. "I do not like that," he says.
Nikki, conversely, likes the fact that Cena has texted her and says he HAS to see her that night. Might he actually propose?!?
He's wearing a suit and he's standing at the end of the pier holding a bottle of wine and two glasses and... nooo! Fade to black!!!
We'll need to wait until next Sunday to learn what went down.
Matt Richenthal is the Editor in Chief of TV Fanatic. Follow him on Twitter and on Google+.