Those in attendance at WWE RAW in Chicago last night were punked.
CM Punked, that is, as many were hoping/assuming/praying that their hometown hero would make an appearance on the episode, following his company walk out after the Royal Rumble.
Instead, they were teased with Punk's music and Punk's face on screen… for Paul Heyman to come out as a clever way to earn some major heel heat.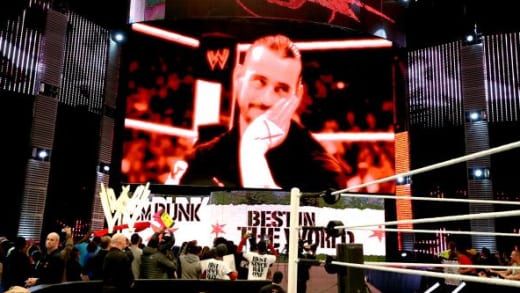 This turned into a promo for the Brock Lesnar-Undertaker match at Wrestlemania, with Lester saying the Dead Man was afraid of him and eventually beating up Mark Henry.
The Undertaker never showed up.
Elsewhere, Seth Rollins waled out on The Shield, telling Roman Reigns and Dean Ambrose to work out their own issues in a loss to The Wyatt Family.
Batista also took on Daniel Bryan in a quick main event that ended by DQ when Randy Orton attacked Bryan and Batista also speared the company's biggest face. The crowd chanted for Bryan and CM Punk as we were left to wonder how ugly the reaction will be in New Orleans at this rate.
With Aaron Paul on hand as Dolph Ziggler's manager, here's a quick rundown of the actual match results:
The Usos defeated the New Age Outlaws to become Tag Team Champions.
Big E. defeated Cesaro by disqualification.
The Wyatt Family defeated The Shield.
Emma and Santino Marella defeated Fandango and Summer Rae.
Sheamus defeated Christian (many boos from the crowd throughout).
The Bella Twins defeated Aksana and Alicia Fox.
Dolph Ziggler defeated Alberto Del Rio.
Big E. defeated Jack Swagger by disqualification.
Daniel Bryan defeated Batista by disqualification.
Matt Richenthal is the Editor in Chief of TV Fanatic. Follow him on Twitter and on Google+.