There are no more saves on American Idol, so things just got really real for the Top 8. One of them will go home tonight in another live results show.
Whose 80's classic was good enough to earn the votes to stick around and who's in danger of leaving? 
Let's find out now...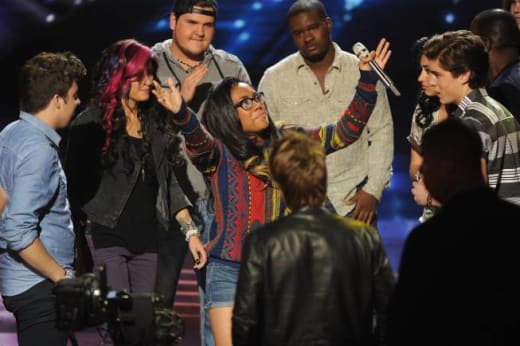 Dexter Roberts, Caleb Johnson, Jessica Meuse, and C.J. Harris get called up first. Of those four, Dexter had the weakest performance last night, but C.J, has long been one of the weakest in the competition. Caleb is the first to learn he's safe, followed by Jessica and Dexter.
C.J. Harris is in the Bottom 2. 
Sam Woolf, Malaya Watson, Jena Irene, and Alex Preston will learn their fates next. Sam is fresh off the save last week and was eager to prove that he's here to stay. Alex took a huge risk altering "Every Breath You Take." Malaya was in the bottom last week and might find herself back there this week. Alex is safe for another week. So are Jena and Sam.
Malaya Watson is the other part of the Bottom 2.
And she's also the one going home. Malaya Watson is eliminated from American Idol and the competition looks like once again, a guy with a guitar might win.
What do you think? Did Malaya Watson deserve to go home?
Miranda Wicker was a Staff Writer for TV Fanatic. She retired in 2017. Follow her on Twitter.