In something legitimately, completely new for American Idol, tonight the Top 7 will be singing "Competitor's Pick." 
Yep, you read that right. They're choosing songs for each other. This should actually be interesting.
All season, Idol producers have been showing how close the contestants are offstage, so this should show how well they really do know one another. It could also be a chance for sabotage, but something tells me they'll keep this clean.
We'll see...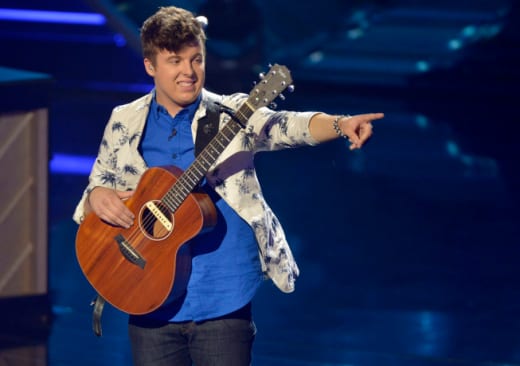 Randy Jackson shuts down the sabotage plan immediately. BOO, Randy Jackson! This could've been super interesting! Instead everybody picked a song for everybody else and then Randy handed each contestant a list of songs to choose from. Bah! 
Caleb Johnson, the Bluesy rocker dude this season, is up first. He chose Alex's choice, "Family Tree," by Kings of Leon. It's a fun, uptempo way to kick off the night and as far as a Caleb performance goes, this one feels a little tame. Like he's just singing and having a good time and not trying to be a rocker. And Ricky Minor is positively jamming. I like it.
The judges are all complimentary of both the Kings of Leon and Caleb Johnson. Jennifer feels he set the bar high and Harry thought it was a great way to start the show. 4/5
Slapout, Alabama girl, Jessica Meuse, has to be joking when she says she believes in aliens and might have been abducted once upon a time which just shows that AI might be running out of material. She picked Sam's Miranda Lambert selection, "Gunpowder and Lead." She ditched the guitar again this week and this song has so much potential for her, but when the guitar and band kicks in, her voice gets lost in the accompaniment. She's not comfortable moving on the stage OR standing still. 
Jennifer picked up on Jessica's lack of comfort on the stage and being off in the verses. Harry didn't think it was Jessica's best performance. His suggestion is that she put on some headphones and dance in the mirror. Keith thinks she can do this, but wasn't convinced that this was her best. 2/5
Former X Factor mentor Demi Lovato is in the house and on the stage. She's not performing, but she's plugging her Neon Lights tour's South American leg and teasing the addition of more North American stops. Great? Great.
Sam and Alex sing Passenger's "Let Her Go." There's a weird 70's dorm vibe going, like two guys jamming in a Commons area. Pretty sure that's what they're going for. Also they've made this song way too happy sounding. I prefer the original. The judges don't get it either. 
C.J. Harris is going with Caleb's choice of "Gravity" by John Mayer. This is one of my personal favorite John Mayer songs, and it has the potential to go either way in C.J.'s hands. C.J. has the right voice for this song, for sure, and definitely adds a little more flavor to this version than the original had. I want him to stop looking like he's straining to get every single note out, but I like this a lot!
Apparently C.J. is a dad. Did we know this already? Keith calls it a good song choice, but cautions that C.J. might need to find the arc for the more emotional parts of his songs. Jennifer says he's getting more and more comfortable on the stage every week. Harry says C.J. has the greatest gift that any performer could have: the ability to connect with the audience. He thought this was C.J.'s best performance to date. 4.5/5
Dexter Roberts chose "Muckalee Creek Water" off his list, suggested by C.J. Harris. His problem has been making these songs seem like his own. I don't know this one, so I don't know how well he does that. I do know that Dexter is comfortable on the stage and with this style of country. Dexter does the best job of working the camera when he performs, so he earns points for that, from me. 
Keith liked the song but suggests he be careful with songs that have intense music but a lower melody. Jennifer liked it for him because it was a darker, edgier number. Harry didn't think he changed the original at all and wants to hear him doing more than just singing along with the radio. 3.5/5
Jena and Caleb are singing another duet. And going to prom together. They're singing "Gimme Shelter" from The Rolling Stones. They both did really well on that.
It's Alex Preston's turn to wow the crowd. He picked Dexter's song, Ed Sheeran's "The A Team." This is that song with the "crumbling pastries" lyric and will forever belong to MK Nobilette on this season. But I can hang with my boy Alex here, particularly since this song is in his lane. He speeds it up just a bit over the original, but doesn't change it too much. There's a driving guitar beat behind his vocals, which are perfect, as always. 
Jennifer starts the critique with by agreeing with the long-cheering audience. Harry calls this his favorite performance of the night. Keith loves that Alex has his own signature already. 5/5
Sam Woolf is going with "Sail Away" by David Gray, which is the song Jessica Meuse suggested. She thinks he has a "sad demeanor" but is otherwise spot on with her assessment that the song "suits his voice." It certainly does. It's not "Babylon," but it's a rock solid Sam performance. The only think Sam has working against him is his age. He's way younger than the guys with guitars singing acoustic numbers about life right now.
Harry thinks he needs a more familiar song to connect to the audience. Keith agrees with Harry but acknowledges the fact that Sam is young. Jennifer didn't feel the connection in person, but felt in in the monitors. 4/5
The Alabama trio, Jessica, Dexter, and CJ, sing the final group song of the night. It's clear that the guys have more star power than she does. This is also the worst group song of the night.
Closing out the night, Jena Irene chose "Creep" by Radiohead, as suggested by her BFF Caleb. He knows she has many layers to her voice and a range of talent to show. He's been paying attention. She starts the song behind the piano, which is what got her here in the first place. The piano is a good choice since this isn't a big, rock-out number. This is amazing.
Keith loves her fearlessness and ability to be bold. Jennifer doesn't even really have words, saying she "Jena-fies" everything she sings. Harry calls her a phenomenal talent who sings with both humility and intrigue. 5/5
If you ask me, Alex Preston won the night if only for being consistently himself week to week. He has a knack unlike any other for taking whatever song's thrown at him and making it sound like he wrote it. I know it seems like I'm on the Alex Preston bandwagon, and that's because I am. He's a seriously talented dude.
Jena Irene's closing number was also fantastic. Truly, I love her. Those two are serious contenders for the final 2.
While Jessica Meuse had the weakest performance of the night, the audience seems to love her for some reason. They also love Dexter Roberts, but one of those two is my pick for who should be going home tomorrow night. Jessica is the weak link in this competition while Dexter at least as the fact that he's likable going for him
What did you think about tonight's performances? Which of the American Idol Top 7 had the best performance?
Miranda Wicker was a Staff Writer for TV Fanatic. She retired in 2017. Follow her on Twitter.