Anna Fricke can write a series finale, can't she?
After the last two Ramona-centric episodes, I admit to being fearful that Being Human Season 4 Episode 13 wouldn't give viewers the satisfaction they desired -- no, needed -- after four seasons of being entrenched in the lives of Aidan, Sally, Josh and Nora. 
There was nothing to worry about, as Fricke's wrap-up was executed beautifully and, if social media reaction is any indication outside of my own house, the waterworks were flowing as soon as five minutes after the hour began.
It was an emotional, heart-tugging and worthwhile ending (and beginning) to the experiment Aidan and Josh set out to achieve - being human.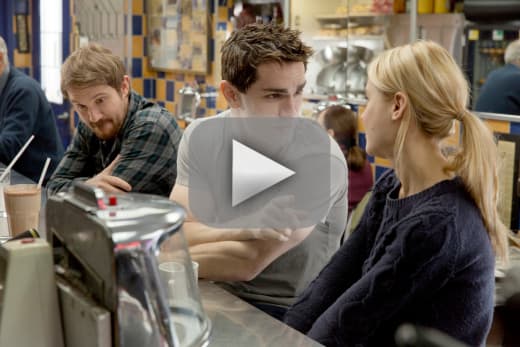 Memorizing an entire spell book came in handy on the spur of the moment when Sally bought some time and shifted everyone but Aidan safely into his room to keep him from killing Josh. She didn't mess anything up when she decided to sacrifice herself to give life to Aidan. Human life. She actually had the power to make his dream come true.
The subtle changes to Aidan were really well done. He instantly had color in his cheeks. Not too much, because he still hadn't been in the sun for years, but just enough to indicate the blood was flowing again. The makeup team was creating magic by bringing our beloved Aidan to life.
Ramona's anger at her "favorite" taking leave caused Josh, Nora and Aidan to rush out leaving her and the house behind to Nora's apartment. A change of location helped them not to linger on Sally not being there, but she was still on their minds.
Nora: Although it would be just like Sally to do something epic right now and rip her way out of your chest.
Aidan: Oh my God that would be awesome.
Josh: I would love that so much.
Not knowing what happened to Sally was rough. They didn't see a door and she wasn't around to let them know she was safe. They just had to take it on faith. Josh decided to get Aidan used to being human with some food. Nora wondered why it was such a big deal when she had seen Aidan nibble at food -- because it tasted like dirt. Now it tasted glorious.
It was all short lived, however, as after one night Aidan looked into the mirror and discovered he had changed. A quick battery of tests and Nora broke the news that all of his organs were failing. She was surprised he was still standing; his optimism gave him a week to live.
The remainder of the hour was one revelation after another bringing laughter and tears in quick succession. 
When Aidan went out on his own and met the young vampire who ironically wanted to be just like him and all Aidan wanted was to be just like the vampire -- again. Josh showed up in time to stop him from forcing the guy from turning him. Did Sally sacrifice herself for nothing?
I'm afraid to die, Josh! I'm afraid to die!

Aidan
He told Josh that vampires don't become ghosts, they don't get doors. Josh had to remind him he wasn't a vampire anymore. Aidan was cynical. Was a blip of humanity enough to erase hundreds of years worth of monstrosity? He was afraid and he was a coward. Josh told him no, he was human.
It was so painful and raw and the emotion between them was electric. It will be a long time before we see a cast who are as in sync with each other as that of Being Human. It seemed like when they were playing their parts they became their characters, especially in relation to the closeness they felt to each other.
Nora still hadn't shared the news with Josh about the baby she was carrying, but Aidan let it slip. Nobody told him, but he sensed it when he was still immortal. He even heard the strong heartbeat. Knowing they were losing Sally and Aidan but gaining a new member of their family was a bit of comfort for Josh and Nora. 
Aidan just wanted to live his life to the fullest he could in the short time he had left with the people he loved. That was cut even shorter than expected when Ramona the pest killed a construction worker to lure them back into her life. Aidan wanted to take care of things on his own so Josh and Nora could have their family and their future would be assured. Josh believed him when he said to meet him at the house in an hour.
By the time Aidan got to the house, he could barely walk. He was visibly older and his voice was gravelly with age. He managed to grab his leather jacket that he earlier escaped the house without. You don't try to rid the world of a demon without the aid of your trusty jacket. He wasn't going down with out a fight.
Or maybe the four of us, supernaturally cursed as we were, moved into this house for one sole purpose. To bring you down.

Aidan
He did go down, however. Down the same flight of stairs took Sally's life. He was at the bottom and having earlier set a trap of gasoline lit a lighter and burned Ramona, himself and the house. When Josh and Nora arrived it was a smoldering ruin. Aidan was a ghost. A handsome ghost.
They laughed about where he would haunt them, but he wasn't going to get that opportunity. He got a door. Despite spending 200 years as a badass vampire, the love he shared with his friends did save him. When the door opened, Sally was waiting for him and they stepped into a kiss.
Then there was a bleeding commercial. Seriously. The. Worst. Placement. Of. A. Commercial. Ever. TV's gotta have some rules about that stuff. My eyes were all misty and I was into the moment and a blasted commercial came on to interrupt the flow of a beautifully paced ending. Anyway.
When Aidan and Sally were cooking lobsters for Josh and Nora, I imagined we were looking at a Lost-like scenario where all of them had died and reached heaven and they were all living on again as roommates. Nope! Josh and Nora were dreaming, apparently similar dreams and they accused Aidan and Sally of dream-weaving themselves into their dreams. A lovely thought.
The Levisons had two children as the credits rolled. Aidan and Sally were running around a field and it was time to gather them up and take them home.
So there were some sobs happening. Never have their been as many tears shed over television shows as there have been this past month. Allison died on Teen Wolf and ripped my heart out and then Will went on The Good Wife and now Being Human came to a close. Seriously -- it's too much. In a good way, of course. If these stories weren't told well, nobody would care. 
When a writer (or team of them) and their actors can make you feel so close to the characters that losing them brings actual loss to the viewers then they're doing something right. I wouldn't want to have my television any other way. I hope you wouldn't want an emotionless landscape of entertainment. 
Could Being Human have gone on? Yes. Could it have gone on and continued to deliver the highest caliber of entertainment to its audience? No. They decided to go out on top and leave us with an amazing series to hold in our hearts and in our minds. It beat the hell out of how the U.K. version went out with a bit of a whimper, a mere shadow of where it began. 
Going forward you'll have to get your fix when you watch Being Human online. It's been a lot of fun covering the series for TV Fanatic. Our discussions have faded this final year, but there hasn't been a minute where it felt like a chore to cover this brilliant series. How about you? Did the finale leave you with a feeling of satisfaction? Chat about it in the comments.
Grade the Being Human series finale!
Carissa Pavlica is the managing editor and a staff writer for TV Fanatic. She's a member of the Broadcast Television Journalists Association (BTJA), enjoys mentoring writers, wine, and passionately discussing the nuances of television. Follow her on Twitter and email her here at TV Fanatic.