There are a lot of problems with Being Human Season 4 Episode 12. "What about me? What about me? What about me?" says Ramona like a mantra.
Here's the thing, nobody cares about you Ramona, no matter who or what you are. There are two (now one) episodes left of the series. Utilizing the annoying character to end out the series is a horrible waste of all of the other wonderful, badass characters that have come before her.
She's supposed to be the personification of the house and the evil within it.
I don't buy that the love of these four friends wouldn't have cast out the little bitch a long time ago, before anyone even knew she was a blip on the radar of the universe.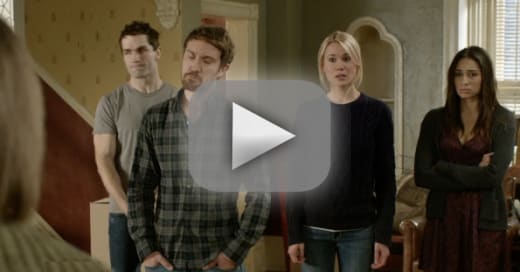 Being Human has had magnificent stories for most of it's run; it's a shame that this is what they're ending on. 
After Ramona revealed she refused to let them leave the house, she decided to use various people from their pasts to get them to commit suicide. If she can't beat them, make them join her themselves.
Nora saw Emily, a drunk, who told Nora everything she thought she knew about Josh was a lie. The only real positive was learning Nora is pregnant, but we'll never see her baby. A happy and a sad.
Aidan saw Henry, which was one of the only mind-fraks that she made not evil. Henry was much as he was when he was alive, and his trick to get Aidan to do the deed was to use the possibility that being a dead vampire didn't mean instant darkness -- he could be with Sally. 
Josh saw his old fiancee Julia who ended up talking crazily, pointing out to Josh that he was a brutal killer and nothing good would come of he and Nora. Ramona used Josh and Nora against each other effectively. 
Sally saw Kat in the shower. She told Sally she always knew about her and her reasoning for anything was rather lame, thus allowing Sally the first to break free from the frak.
After breaking free, she freed Nora and then stopped Aidan. Nora reached Josh just as Ramona made him think he had slit Nora's throat and the Nora he was seeing was a ghost. It was only when she touched him that he realized what was going on.
Since Ramona is the house, she kept them all locked inside and invited Kenny in to take on Aidan for what he did to Astrid. Or what he covered up Josh did to Astrid. In the ensuing fight between father and son, Kenny gets staked and before dying tells Aidan Josh was responsible for elimination of Sally.
Sally is right there, but apparently Aidan can't see her. Remember that bungee jump they did in which Sally saw Aidan snap Josh's neck? Well, as it faded to black, it was about to happen. I think it will happen and Sally will have to use magic to get him back. That will be our final episode.
This just seems so far from the tremendous surprises I'm used to on Being Human that I can't accept it.
As much as I disliked the How I Met Your Mother series finale, at least it was an end. When you have the opportunity end things on your won terms (which is what has been claimed here), I expect a planned ending. 
Ramona is boring. She is a bratty kid. Horrible things happened to her, but she's obviously had no time to reflect and find a getter place to go. Using our four protagonists as her toys might have been fun at the end of Being Human Season 3. One episode to go and I want her obliterated.
The love that Aidan, Josh, Sally and Nora felt for each other and the times they gave given of themselves to save those they loved would have had a positive effect on that rotten house. A good story would have been that she loved them and wanted to be with them because of what she saw in them. But that's not what we're seeing here. They're just toys.
This penultimate episode was a huge disappointment. Can they bring it all back together and round it up so that we don't hate the series as it goes out? Of course they will. But this kind of annoying frustration shouldn't be the focus with one to go. Drama between the characters or the return of someone we've already known and enjoyed would have worked. It would have made sense. 
Not the very house in which they found each other, loved each other and saved the lives of one another putting their own on the line again and again coming out to try to kill them. I don't buy it. I'll have hope for the finale. I need some sort of closure for these beloved friends of mine, but I'm disappointed nonetheless. 
Did this episode prepare you for Being Human to end?
Carissa Pavlica is the managing editor and a staff writer and critic for TV Fanatic. She's a member of the Critic's Choice Association, enjoys mentoring writers, conversing with cats, and passionately discussing the nuances of television and film with anyone who will listen. Follow her on Twitter and email her here at TV Fanatic.