In news that comes as no surprise to anyone who has followed his recent run of personal troubles, Columbus Short has officially left Scandal.
The actor, who has portrayed Harrison Wright since Season 1 of the ABC hit, released the following statement in confirmation of his departure: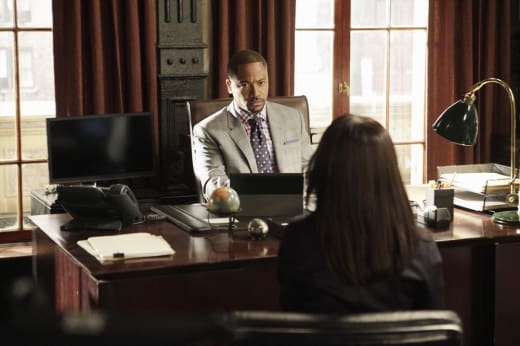 At this time I must confirm my exit from a show I've called home for 3 years, with what is the most talented ensemble on television today. I would like to first thank [creator] Shonda Rhimes for the opportunity to work with such an amazing cast.
Thank you GLADIATORS, who have supported me throughout my entire career and of course to ABC and Shondaland for allowing me to play such a pivotal role in the Scandal series. I have enjoyed every single minute of it. Everything must come to an end and unfortunately the time has come for Harrison Wright to exit the canvas.
I wish nothing but the best for Shonda, Kerry and the rest of the cast, who have become like a second family to me in such a short amount of time. For this, I will forever be grateful.
Earlier this month, Short's wife filed for divorce and was awarded a temporary restraining order against the actor after a domestic disturbance in which he allegedly held a knife to her throat.
Short is also accused of assaulting a man at a bar.
On the Scandal Season 3 finale, Harrison's future was left up in the air when B613 head Rowan and his Secret Service men held him at gunpoint in the closing minutes.
Matt Richenthal is the Editor in Chief of TV Fanatic. Follow him on Twitter and on Google+.