John Ross was told he was just like his father often in Dallas Season 3 Episode 6.
At times he appeared to aspire to the comparison while at others he regretted it. But one thing was for certain: As he told Sue Ellen, you hear that enough eventually you start to believe it.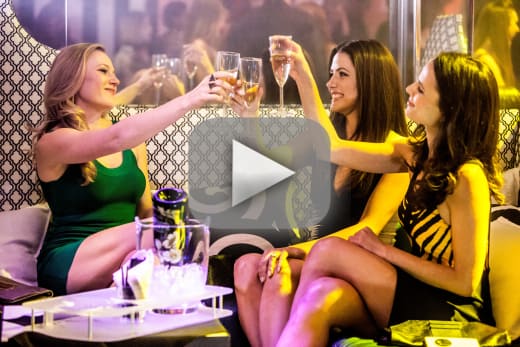 Was John Ross right? Were Sue Ellen's decisions being fueled by alcohol and did she go too far in helping Bobby make an end run around her own son?
What was sad was that, although John Ross felt his mother's attack was personal, he couldn't see how his threatening Southfork was equally personal to Bobby. 
Apparently, having Bobby become the Railroad Commissioner could end up being more fun that originally expected, especially after his conversation with Nicolas…
Bobby: There's nothing dishonorable about making sure that every single rule and regulation is followed to the letter of the law. Is there?
Nicolas: Take your best shot Mr. Ewing.
Bobby: Don't say I didn't warn you.
Both the girls and boys nights out were fun for different reasons. I loved that there was an office pool about Candace's short skirts and tight outfits and that Elena had pictures.
And when Emma told Pamela that John Ross loved her, I believe she meant it. I think she even believed it when she said John Ross wouldn't cheat on his wife, at least not with a bimbo like Candace. As she said, Emma wants to be his only other woman. 
The boys night out was interesting because of the blast from the past. I can recall when Carter McKay waged a war against the Ewings on their own property after he took control of Ray's section of the ranch.  Now his grandson is more interested video games than war games with anyone, including Ewings.
Of course, the only reason that Hunter McKay seemed to be there was to give John Ross the idea to take Ewing Global public. That entire plot requires a certain amount of suspension of disbelief.
Taking a company public is a complicated process that can take years. It would never happen quickly enough to get the cash for those leases no matter how many votes John Ross had. But this is TV, so we'll have to set that aside and move on.
John Ross finally felt as though he had what he needed to move this deal forward, only to have his mother pull the rug out from under him once again.
I was so proud of John Ross when he turned down Candace, although I wish he would have fired her for failure to keep her clothes on. It was a shame that Sue Ellen misinterpreted what she saw.
When a drunk Sue Ellen turned on him later, he was really hurt. Sue Ellen really does seem to be plagued by the ghost of JR and all of the pain his lying and cheating caused her.
Unfortunately, she's making the wrong person pay for it, as John Ross asked in this Dallas quote…
I'm your son. Do you remember that or are you too damned addled to remember who I am?

John Ross
It made me wonder how many times he'd watched his mother get drunk while growing up. The wounds run deep for both of them. But John Ross was right. Sue Ellen was quick to blame him and his father for her drinking but that's all on her. 
There's so much pain there, on both sides. Sue Ellen's addiction to alcohol has always been a slippery slope and this time John Ross used it to his advantage. As Sue Ellen was led away in an ambulance to have a psychological evaluation, I couldn't help but recall how JR had her locked up when she was drunk and pregnant with John Ross. 
Sue Ellen is locked up against her will as history repeats itself once again. What do you think? Is John Ross just like his father?
C. Orlando is a TV Fanatic Staff Writer. Follow her on Twitter.