Dance Moms Review: Lucky Number 13

Winston Rice at . Updated at .
Dance Moms took on a more emotional tone this week.
And, no, I'm not talking about the normal angry emotions that are usually thrown around the dance studio in the form of verbal spars - but rather a more quiet, sadder tone.
The girls, their moms and Abby all started to bid goodbye to Abby's sick mother, Maryen Miller, who really helped make the ALDC what it is today.
In spite of all of their differences over the years, Abby and company truly are their own dysfunctional family and they dealt with this impending loss as such.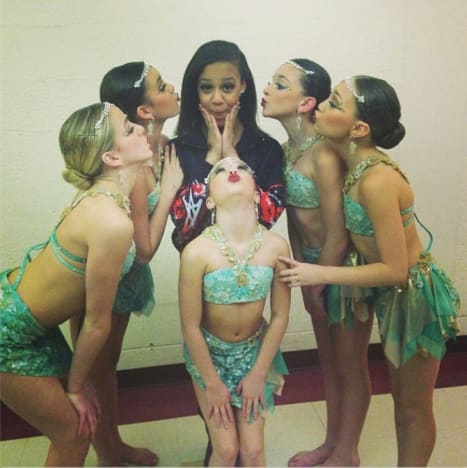 With her mother's health rapidly deteriorating, Abby decided to take a tiny step away from the dance team (she can never go too far!) to focus her energy on spending as much time with her ailing mother as possible... but not before getting to Pyramid and doling out the routines for the week.
In an uncharacteristic move, Abby placed all of the girls except one on the same rung of the pyramid, praising the members for dancing through the musical mishap that could have inhibited their group performance last week.
Kalani, with her grade-A headshot, sat prettily atop Pyramid, but didn't get a solo as is usually the reward. Instead, Abby gave solos to Kendall and Nia, a duet to Chloe and Kalani and the group routine initially was to include all dance members (more on that later).
Abby also spent time holding auditions for Mackenzie's - excuse me, Mack-Z's - new music video on Dance Moms Season 4 Episode 14.
Abby is clearly glad to have a replacement for Brooke and her singing career now that Brooke is no longer a member of the ALDC. While Kelly served primarily as Brooke's "manager," it appears Melissa is totally fine with Abby running Mack-Z's career, which is exactly the way Abby wants it.
However, Abby did give Mackenzie some power, allowing her to choose who made the cut for her music video; while Mackenzie doubted having Maddie in it, she ultimately decided to keep her sister, Nia and Kendall for the video, while Chloe got the boot. Why does Chloe always seem to get the short end of the stick? 
Even though Abby came and went from the studio this week, she was still there often enough to eliminate Nia from the group dance routine, citing Nia's inability to execute the intricate bollywood style dance moves.
Holly rightfully disagreed with Abby's decision, instead putting the blame on Abby's inability to keep track of the right amount of dance costumes for the routine. I'm confused... I thought the dance moms made the costumes every week?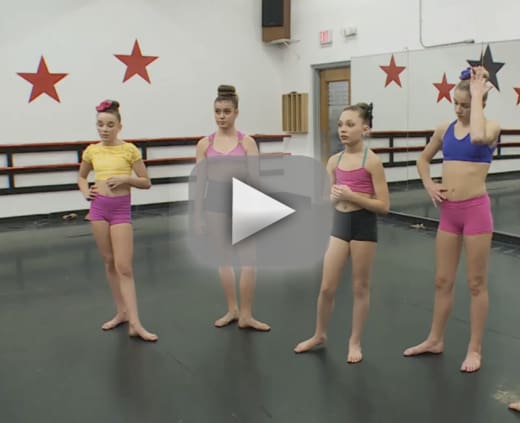 In true Abby fashion, before the girls departed for their dance competition, she made sure to drop a dance bomb: her new dream team, you know...the same new "dream" team she's been threatening all season long, is supposedly showing up soon, so the girls better shape up or ship out.
With a new competition team looming, Abby decided to put even more pressure on the girls to keep their 12-week hot streak alive.
Onto the competition! Chloe and Kalani do a contemporary routine titled "For You, Two" (or is Too? They didn't say). Christi is worried that if the number doesn't place well, Chloe will end up being the fall guy (and she's probably right), but she's hopeful Chloe can pull her own weight.
Christi needn't worry - the dance style fit Kalani and Chloe perfectly and they were very in sync throughout. Solid performance!
Kendall does a jazz routine titled "Dream It." Jill is worried Kendall dances nervously and has lost the fun behind her dancing; plus, as always, Jill wants Kendall on top of the pyramid so the hierarchy continues to loom large over her head. For me, the choreography seemed to be a bit lacking, but Kendall did well with what she was given.
Nia does a musical theater routine titled "Damsel in Distress." It was an energetic, cute and fun number, but a little too juvenile for my taste. Gia thought it was probably the best the team had ever seen her dance, but I beg to differ. Laquifa, anyone? 
Finally, the group, sans Nia (how rude!), does a bollywood routine aptly titled "Bollywood and Vine." The dance had great choreography and the girls danced it cleanly and sharply. Totally worthy of a 13th consecutive win!
And the results are in...
Nia got third place.
Chloe and Kalani got first.
And the group routine - drumroll, please - got first as well! 13 wins in a row and a fitting tribute to honor Mrs. Miller.