Devious Maids Review: The Dirt is Back

Christina Tran at . Updated at .
The wait is finally over: the Devious Maids are back and better than ever.
If tonight's return was any indication, get ready because this season is definitely going to be even sexier and dirtier than before.
I can already tell we will once again have so much fun learning more about the help and their crazy employers. 
So, what went down on Devious Maids Season 2 Episode 1? Let's dive right in...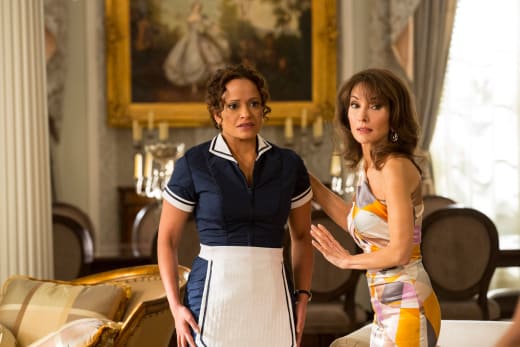 In the opening scene, we flashed back to a dark night in Beverly Hills in 1999 where we met Nicholas (Nick) and his wife, Dahlia. Opal, Nick's trusted maid, and her son watched from a window above as the couple argued. Suddenly, the altercation moved to a bridge nearby.
While Nick grabbed onto Dahlia's arm and basically said he wouldn't let her confess, Dahlia exclaimed, It doesn't matter. We killed him! Beforehand, Opal said that it was only an accident. Oh, isn't it always?
Already, there are so many questions: What were they talking about? What exactly happened with Dahlia? Why do Opal and Nick continue to say that Dahlia took her own life? 
It appears that Marisol is caught in the midst of the mystery as she's dating Nick now. After meeting at a bookstore and dating for three short months, the two are engaged. Something tells me that Marisol is going to get her hands dirty all over again and try to get to the bottom of Nick and Opal's well kept secret. 
Meanwhile, Rosie spent the last three months in a detention center for illegal immigrants. Fortunately, she was granted asylum and permission to remain in the United States for six months with her son.
Of course Peri was not too pleased with Rosie's return and lied to Spence about being pregnant to keep him all to herself. Will Spence and Rosie ever get together? It's obvious how much they love one another, but the odds are truly stacked against them.
Elsewhere, Adrian and Evelyn Powell are back from their vacation in South America. I honestly laughed out loud nearly every time one of them opened their mouths. They were both incredibly terrible, as usual, when they met their new maid for the first time and described her as "hideous."
There were many other instances where I wondered if they really just said what I thought I heard and that's why this show just wouldn't be the same without them. 
I was surprised when several masked men abruptly stormed into their house during their dinner party, demanding the jewelry worn by every dinner guest. It will be interesting to see how Evelyn deals with Tony, the new bodyguard, while Valentina has also found new employment at the Powell household.
That's right. Valentina's back but Remi is still in Africa. It was nice to see Genevieve again, as she hasn't changed in the least bit. I couldn't believe how gullible she was to think that there was actually valet at the motel. She's still so ridiculously clueless. 
How long do you think it will take for Valentina to forgive Zoila? I don't think that she will be too excited with Valentina's new job.
Finally, the vivacious Carmen was living the life of red carpets and an amazing wardrobe as Alejandro's fake girlfriend. While I was glad that Carmen made amends with Odessa, I am hoping that her ambition for singing isn't dead. Also, can we expect for Sam to return eventually? 
Other Thoughts:
Taylor and Michael Stappord won't be returning this season. I wonder if their absence will be explained. 
Did you know that the premiere was directed by Eva Longoria, the show's executive producer? I'm so ready for her to make a guest appearance.
Don't forget to check out our section og Devious Maids quotes. Seriously, there were so many awesome lines that were certainly cringe worthy but I couldn't help but laugh hysterically each and every time.
I forgot how much I missed seeing Adrian and Evelyn Powell on my TV screen. They're both such awful people and are really perfect for each other. 
Overall, I thought "An Ideal Husband" did not disappoint. From the shocking moments to the cliffhangers, I'm so thrilled that the Devious Maids and the characters that I simply love to hate are back. 
Grade the Devious Maids Season 2 premiere: