Devious Maids Review: Who's in Control?

Christina Tran at . Updated at .
Some some classic Spence and Peri drama kicked off Devious Maids Season 2 Episode 2.
Spence came clean to Peri about about his affair with Rosie. In fact, he even told her he wanted a divorce and that he was in love with Rosie. She threatened to move to Europe with their son and destroy him by going to the media about his affair.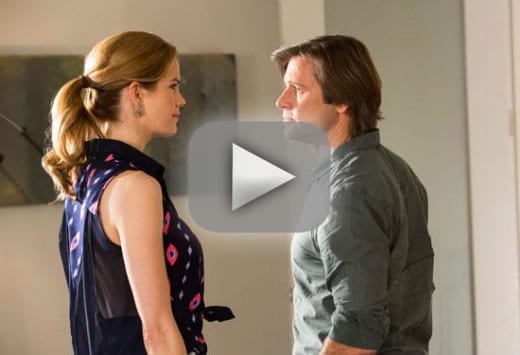 With Peri - AKA America's sweetheart (seriously?!) - pulling the strings, the ball is definitely in her court. Again, poor Rosie! I hated that Spence told Rosie that his family is breaking up because of her and that she needed to stay away. Sure, Peri needed to hear these words, but Rosie keeps ending up with false hope and then nothing. 
At least Rosie's got a new job with a very interesting family to keep her busy. There was a lot of time spent on the new family, but their issues seem like we've already seen them a million times before.
Meanwhile, Zoila couldn't stop controlling everyone and everything around her. As expected, she hated that Valentina is working at the Powells. I've never cared for her need to have everything her way, but I will admit I felt bad for her when her husband said he needed a break and moved out.
By the way, how does Valentina not know about Adrian's previous nasty habit from Devious Maids Season 1? You'd think someone would clue her in and then maybe her mom would get what she wants: Valentina turning in her apron. 
As usual, the Powells made me laugh. I loved when Evelyn nearly was attacked by a homeless man as she called out to her husband for help. Of course, Adrian was too scared to do a darn thing.
Luckily, Tony got back Evelyn's red ruby pendant. Do you think Evelyn would actually cross the line with Tony?
On Devious Maids Season 2 Episode 1, the Powells' dinner party was interrupted by several masked men who stole all of the guests' jewelry. This time, the masked men had the same intentions by ambushing Alejandro and Carmen's engagement party.
Unfortunately, Alejandro was shot and I'm not sure whether or not he'll survive. It was sad to see Carmen cry as Alejandro is clearly much more than a fake husband to her. 
Elsewhere, Marisol needed to move her things in to Nick's house. However, Opal wasn't too pleased and didn't want to get rid of Dahlia's things. It was really weird when Opal freaked out when she realized that all of Dahlia's things were gone.
While Opal opened up about how she was once close friends to Dahlia, I started to wonder if Marisol could actually get on her good side.
Also, Marisol found a note that said: Given all that you've said I don't care what you have to do Dahlia. Get Opal out of that house. Immediately. I love you. Mother.
Upon reading the note and the words across the screen, I realized that I'm not exactly intrigued by Marisol's storyline. Maybe it will take more time, but right now I just could care less. 
Other Thoughts:
What's up with all the break-ins? More importantly, who's next to get hit?
Nick honestly creeps me out. We know so little about him right now, and I'm kind of fearful for Marisol.  
I miss Taylor and her friendship with Marisol. That is all.
Don't forget to check out our Devious Maids quotes for some LOL-worthy moments.
Overall, "The Dark at the Top of the Stairs" wasn't the greatest. I felt like we were watching the same things happen all over again. Zoila's a control freak, Rosie's unlucky in love, and the list goes on...
I think of Devious Maids as a fun show that's also a guilty pleasure. I watch it for the laughs, drama and much more. I'm ready for the storylines to move along a bit faster and am waiting to be totally and utterly interested like I was last season. 
Whose storyline did you enjoy the most?