Janel Parrish made a visit to Drop Dead Diva Season 6 Episode 5 as a cheerleader, Chelsea, who claims she is being victimized and bullied by the rest of the squad.  
But like the good Pretty Little Liar she is, Chelsea actually stages the entire situation - and getting on Jane's bad side is never a good idea.
Although a scorned Jane makes for a lot of fun when she's taking down everyone in the courtroom, it's unfortunate that Chelsea decides to stage the entire thing so she can turn her viral video into a lifetime of fame.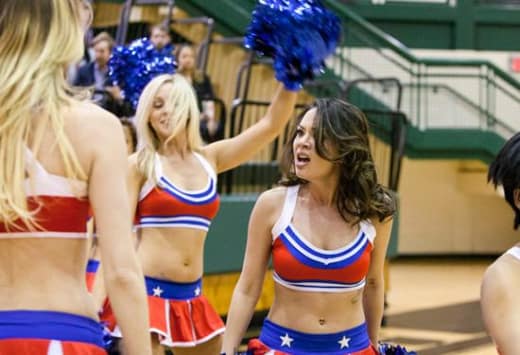 Grayson and Owen, meanwhile, use seceding from the United States as a way to get a family out of a lien the government has put on their house.
Drop Dead Diva has done some pretty odd cases in its time and I'm usually all for it, but this one just falls flat. Seceding from the nation seems like quite a big move for a safety issue like speed bumps. Thankfully, the case does not dominate the installment. 
Instead, Jane and Grayson's sex life did...
... or the lack of one, we should say.
Jane and Grayson are in this situation where they are still trying to be the people they once were. Grayson, particularly, is in this situation where he is unsure of what role to play.
His relationship with Deb is the one he tends to default to in his relationship with Jane and I think knowing that his Deb is in there now makes it hard for him to see Jane and Deb together as one person. His adjustment period is still going on when it comes to Jane, especially since Jane is a very different person from where Grayson last saw Deb. 
There's a definite adjustment period going on for the audience too in regards to Grayson and Jane.
It's sometimes difficult to watch Grayson play that catch up of knowing Jane's secret, and not quite knowing what to do with it. He's constantly stumbling over his own decisions in comparison to Jane's relationship with Stacy, as they have largely moved past all of their prior issues and the two are successful in being friends on new terms and interests in life.
Finally, Teri's attempts to help Paul come from a place of love (and personal gain).
Teri's usually one to strike out on her own and Drop Dead Diva Season 6 especially has been kicking Teri's independence up. Teri would certainly make a good lawyer on her own, as Ms. Muffintop shows, but it's a shame that Teri goes through the plan and ends up with jail time because of it.
Sure, Jane would be mad at Paul for what he did, but a quick chat and Jane could probably get everything sorted out. 
At least Teri gets to cross another thing off her bucket list. 
Is Grayson going to figure out how to have a new relationship with Jane?