One word the woman you're dating never wants to hear about herself? Irrational. 
Despite his apology, Grayson really couldn't catch a break on Drop Dead Diva Season 6 Episode 6/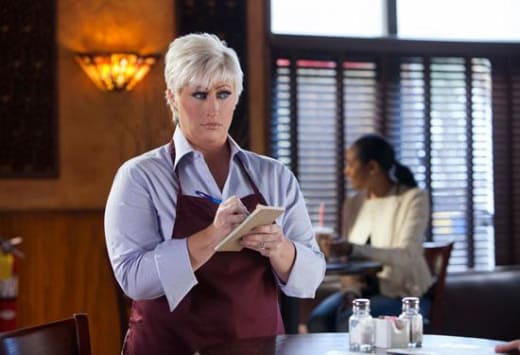 It wasn't until he said nothing at all that things started to unfold the way they should. Ah, the sweet sounds of silence sometimes speak volumes.
But prior to a very lovely ending that led to Jane and Grayson finally putting their issues to bed (pun intended), the two were assigned an intense case. 
It must be a little unnerving to be assigned to a case and escorted from your office without knowing anything about it. I admit that I was getting a bit frustrated that nobody was informing Jane and Grayson about this. How were they supposed to defend their client?
Hold on, excuse me. Who exactly are we representing? Oh my god is this about the Justin Bieber deportation?

Jane
It was great to see Liz from Nip/Tuck as the judge, though.
Jane and Grayson's client was targeted and held in jail because of a greedy company. She was visibly shaking and terrified. I understand the need for national security, but shame on you, Grabzilla. 
Then there was the alleged do-gooder couple who felt so bad for the Bowen orphans that they took them in and offered them their own rooms. It was all a stunt to get their home remodeled for half a million dollars on a home improvement show. Another example of greed!
Has anyone else noticed that Kim Kaswell has become the unofficial children's lawyer at Harrison & Parker since she returned from her maternity leave? Grayson was right:
Motherhood must've altered your brain chemistry.

Grayson [to Kim]
I'm glad she decided to go out with "the help" in the end. The old Kim was stuck up, but the new Kim really has changed. Besides, Kim got knocked up by the head of a law firm and where did that get her? He abandoned her! Date who you want, regardless of their "status." 
I'm in agreement with Temp Dave that I wouldn't date someone who wouldn't want to date me because they don't think my job is good enough. It's lame and superficial. 
Lastly, we had Stacy and the whole evil baby storyline. I'm sure if I ever reproduce, I will be nothing short of an intensely neurotic pregnant woman... but c'mon Stacy.
The real Stacy storyline that I care about is Owen's feelings for her. That moment when she cut the cake (yay twins!) and his face fell, you could tell he was just so heartbroken that he wasn't more a part of things. I'm glad that Jane gave him advice to go for it. I hope he does.
What do you say, are Stacy and Owen meant to be?