Welcome back to the TV Fanatic Grey's Anatomy Round Table!
Our review broke down Grey's Anatomy Season 10 Episode 21, "Change of Heart," in detail. Now Christina Tran and Steve Marsi, along with Jarrod Mitchell, are back for a Q&A.
Read their answers to the questions and weigh in with yours!
----------------------------------------
What was your favorite quote or scene from Grey's Anatomy Season 10 Episode 20?
Christina: I liked the following exchange between Alex and Arizona ... Arizona: "What's wrong with your face?" Alex: "I like your hair?" Arizona: "What did you do?" LOL! His face was seriously priceless.
Jarrod: Probably the Meredith and Derek scenes. I found myself smiling at them getting a day together. I just got so much nostalgia from watching them do surgeries together and have some on-call room fun.
Steve: Meredith and Derek for sure. You can watch Grey's Anatomy online to relive the old classics, but it's great that it can still feel like old times here in Season 10.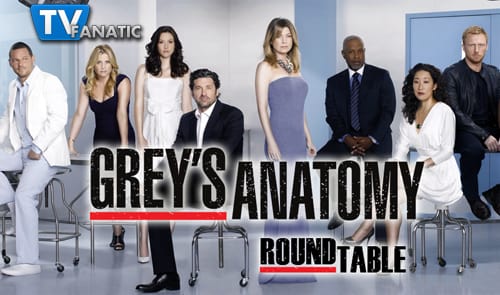 What did you think when we found that the Harper Avery Award was actually Cristina's for the losing all along?
Christina: I thought, "Man, we have some really smart commenters!" You guys nailed it! It makes so much sense as to why Cristina is leaving now. However, does this mean every doctor at GSMH doesn't stand a chance as well?
Jarrod: I can totally understand why Cristina would leave. I understand the conflict by the Harper Avery Association, but still, Cristina won, she had the votes! I understand the politics but if that's the case then Cristina should have been told that by Catherine herself. It's just professional courtesy!
Steve: It was an appropriate plot twist and well-acted as always by Sandra Oh, but how was this not common knowledge beforehand? Seems awfully unprofessional and arbitrary for that bomb to be dropped on her after the fact, doesn't it?
Amelia's back! Dr. Burke will return next week. Name one person you'd like to see visit GSMH.
Christina: Addison! Calzona's trying and April's pregnant, so why not?!
Jarrod: I agree with Christina; I'd like to see me some Addison. I wouldn't mind some Izzie squeezed in there on some arc. Maybe come back with terminal cancer?
Steve: Since all our old favorites are dead, and it will likely be a cold day in you-know-where before Katherine Heigl is asked back ... Addison it is!
Does Jarpil's marriage stand a chance?
Christina: First off, April should have never run away. Then again, I still think they should have never gotten married in the first place. Anyhow, faith cannot be compromised. However, I get they don't believe the same way but can't they agree to raise their children a certain way?
Jarrod: Not if they don't communicate. The problem with these two is that they take the easy option and walk away instead of talking. Seems like history is going to repeat itself if they don't sit down and talk. On a side note, I'd hate for the show to have incorporated a pregnancy for these two just so it's give them a reason to be together.
Steve: It's Grey's Anatomy so there's always a chance, but if this were real life I would say no based on their issues. I'm intrigued to see it play out in any case, but I don't see it working out.
Only three installments remain in Grey's Anatomy Season 10. Make one bold prediction.
Christina: Cristina doesn't die. Many may disagree, but that really IS bold. Consider how so many of our favorites seemingly died. RIP George, Lexie, Sloan, and the list goes on ...
Jarrod: Cristina decides to join Burke at his hospital where he's the Chief of Surgery and offering her to be the Head of Cardio once she's finished her fellowship.
Steve: Cristina and Burke ride off into the sunset together.