Has Don changed enough during his time out to return to work with the stipulations placed upon him in Mad Men Season 7 Episode 3?
That's going to be the big question going forward. Don has managed to transform himself quite radically in recent months. He's no longer able to carry on with lies when confronted and he's tempered his drinking dramatically.
But working at the shell of a company he started might be too much to ask. There are relatively few people left there worth his genius, to be honest.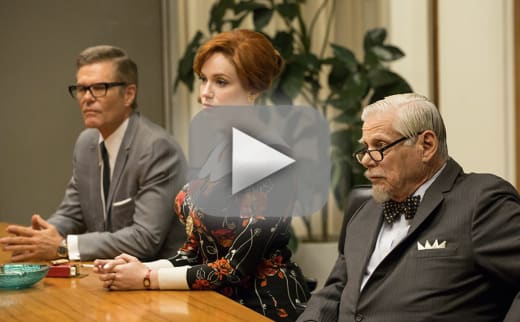 Megan was falling apart in California, so he paid her a quick visit. It was quick because she finally confronted him about his odd behavior, never being at the office, always having to return calls and the utter quiet when he did. She thought he was cheating on her, but the truth was even worse -- he has spent the last year just not wanting to be with her.
They're both right in this situation. Don promised Megan he was going to get a job in California. That would have fixed their problems as far as she's concerned. From his end, he needed to find himself. Their fight and her kicking him out forced him to make a move -- either accepting another job offer or forcing the issue with Sterling Cooper.
When Roger accepted him back, it did seem too easy. But damn was it good to see him go to bat for Don. It's about time. As incredibly off the wall as it was for Don to be back in those offices, it was worth it just for Roger to show how much he appreciates Don's abilities. He is a creative genius.
Don didn't leave the firm with a lot of friends, but my how the tides change when someone is gone. The rancor from Joan and Peggy, especially, was alarming. I shouldn't be surprised by what happened with Peggy. She's more lost than Don and she hasn't had her come to Jesus moment yet.
But Joan has let her partner power and new ad position go to her head. For someone who literally slept her way into her partnership, she really shouldn't be casting any stones. Yet she was the most vile with regard to Don's return. 
They decided they couldn't afford to buy him out, nor could they afford his creative genius to be utilized by the competition, so they came up with the stipulations of his return, the violation of which will result in the absorption of his shares in the firm and his immediate firing.
He's not allowed to be alone with clients
He has to stick to a script in meetings, a script that must be approved by all other partners beforehand
Outside of client hospitality, there will be no drinking in the office
He'll work in Lane's old office
He'll report to Lou
Don's answer? OK. I hope he makes everyone so uncomfortable with his new attitude that they find it difficult to maintain the stipulations. Lou will make his life hell, that's for sure. I never saw this coming and the dramatic tension it opens up is fertile ground. No wonder they don't leak any stories ahead of time.
The secondary story was somewhat mimicking Don's. While everyone admits Don is a genius but they can't seem to stand him, Henry thinks Betty is a great mother, but she wonders why her kids hate her. 
While the field trip was amusing, I didn't think anything Bobby did indicated his hatred of Betty. He was just being a boy. Trading her sandwich for gum drops makes perfect sense to a kid his age. Why would she eat a bagged sandwich?
What did you think about Don's decision to return to the firm? Do you think he'll stick it out or will he wind up getting fired? Were you surprised that Roger was so adamant about his return? You can watch Mad Men online and then hit the comments. You're already here -- why not share your thoughts about the installment, as well? Talking to myself isn't all that fun.
Did Don make the right decision?
Carissa Pavlica is the managing editor and a staff writer for TV Fanatic. She's a member of the Broadcast Television Journalists Association (BTJA), enjoys mentoring writers, wine, and passionately discussing the nuances of television. Follow her on Twitter and email her here at TV Fanatic.