Things moved fast on Once Upon a Time Season 3 Episode 19 as hearts were broken, crushed, split and shared. Even true love's kiss had an unexpected yet wonderful twist.
Let's start with the fairy tale land.
Remember back when we first found Aurora and Philip? I was so ticked off when they hid what they knew about the Wicked Witch. Well, I kind of felt bad about that when Zelena turned them in to flying monkeys.
That was a tough break. And wasn't Aurora pregnant too? Did she already have her child or is she now destined to have tiny little monkeys?
Regina was a lot snarkier in the fairy tale world, especially with Robin. I suppose she was still reeling from losing Henry, but I did kind of love her sneering at Charming and Snow exchanging flowers while on the hunt for the good witch. Even better was the portal to Glinda not working for Regina because she wasn't pure of heart. 
Snow crushing Charming's heart was positively heartbreaking, even though I knew they both somehow ended up in Storybrooke together. The Charmings have certainly faced some tough decisions as parents, and they've really had almost no time to enjoy their kids. 
Back in Storybrooke, things moved even faster.  The flying monkey attack on the dock was all the better because everyone was involved and they all used their individual talents; Hook and Emma with pistols, Charming with his sword and Regina with her fireballs. 
I wondered if the book would come into play once again and it did. Finally Henry remembers everything. it's been a long time coming and the best moment was seeing his reaction to Regina. You could hear just how much he loved her when he saw her and called her mom.
I was thrilled that it was Regina's kiss that broke the memory spell. Over the past three seasons, the focus has been on Emma building her relationship with her son and their true love was what broke the original curse. It was good to see Regina and Henry's bond not take a back seat and show that there is true power between them as well.
When Regina told Robin in this Once Upon a Time quote…
For some reason you're so much more likable here in Storybrooke.

Regina
I couldn't help but think that the same could be said about her. Regina is such fun here. She can show her heart without losing any of her power. I suppose that having both the love of her son and Robin Hood has brightened her outlook considerably. And as she told Robin, if he thinks she's a good kisser now, just wait until she gets her actual heart back. 
Emma's magic may have been powerful enough to save Henry this time, but they need to get Zelena's pendant away from her to defeat her and I'm not sure how they'll manage that.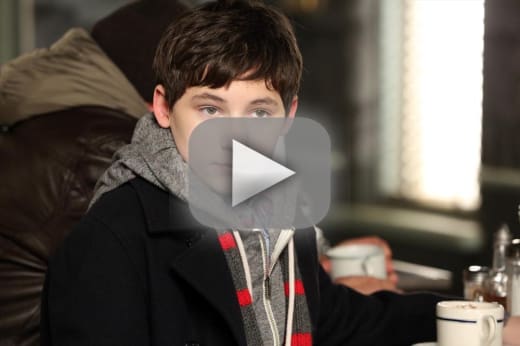 Poor Hook. He really was the losing party in this episode. He did everything he could to protect Henry and Emma, yet still ended up being the person no one trusts. I do wish he would have gone to Emma as soon as Zelena cursed him but I can understand being worried about what Zelena would do if he had. 
I still question how Hook figured out how to jump realms and get to NYC to find Emma in the first place. Did he pull the Jolly Roger in to New York harbor? I really want to know.
OK, TV Fanatics. Your turn. Should Emma forgive Hook for not telling her about Zelena's curse?
C. Orlando is a TV Fanatic Staff Writer. Follow her on Twitter.