Once Upon a Time Review: You Can't Steal What's Been Given

Christine Orlando at . Updated at .
Zelena started off as the happiest baby in all of Oz, but it all went downhill from there on Once Upon a Time Season 3 Episode 16.
It's clear that Zelena was born with powerful magic, but was she always wicked or did she become so because she was told that's what she was?
In her defense, it must have been horrible to realize that no one ever wanted her. Not Cora, not her adoptive father, not Rumpelstiltskin.
Let's face it: The girl has issues. So much so that she literally turned green with envy upon seeing her half sister.
I liked that they made the slippers silver in this story. For those that aren't aware, in the book the slippers were not ruby as they were in the movie, but silver.
I also found it interesting that Rumpelstiltskin described Zelena as the most powerful sorceress he'd ever encountered and stunning in every way. When that realization descended over Regina, that was when the self doubt began.
She's always assumed that letter was written about her. The knowledge that it was written about her half-sister shook the very foundation of who she thought she'd always been.  
Back in Storybrooke, everyone came together to bury Neal. Watching each person shovel dirt onto his casket made the loss all the more real.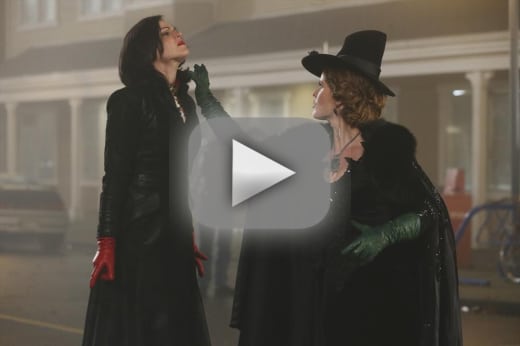 Regina couldn't keep her eyes off of Henry, who ironically couldn't remember the father to whom he was saying goodbye and Rumpelstiltskin was locked in a cage, instead of allowed to mourn his son. Zelena inflicted that pain on all of them.
Not only was Hook's offer to talk to Henry about his father sweet, it was also useful. How would Emma have explained that witch fight going on in the town square?
There was little humor in this episode, but the odd bits were quite good, as in Emma's response to Hook's offer to share with Henry in this Once Upon a Time quote…
Hook: Perhaps I could talk to him.
Emma: About what, leather conditioner and eye liner?
I also enjoyed the continuation of the slow build between Regina and Robin Hood. Their chemistry continues to grow as Regina opens up and trusts him bit by bit.
Regina: What makes you think you know me so well.
Robin Hood: Well for one thing I'd be charred to a crisp right now if I didn't.

I wasn't sure what Zelena's ultimate goal was during her showdown with Regina until she went for her heart. Of course, leave it to Regina to hide it somewhere safe and not in her chest where it belongs. 
More surprising was who she trusted it with. When Robin joked about trusting a thief, Regina reminded him that you can't steal something that's been given to you. She obviously believed that  he was the one man who would keep it safe. For Regina, that's huge. 
So Zelena has David's courage, control of Rumpel's mind and she's trying to find Regina's heart. What does it all mean and how does Snow White's baby factor in? 
Your turn, TV Fanatics, who do you think is the most powerful sorceress on Once Upon a Time?
C. Orlando is a TV Fanatic Staff Writer. Follow her on Twitter.