Considering the ominous and notorious commercial promos, Parenthood Season 5 Episode 21 didn't really offer as much as I expected with regard to Amber and Ryan or Hank and Sarah.
Instead, their stories were built up and saved for a later day.
Kristina and Julia were the true headliners this week. Especially Kristina while Monica Potter got some action for her Emmy reel as Kristina dealt with the loss of her friend, Gwen.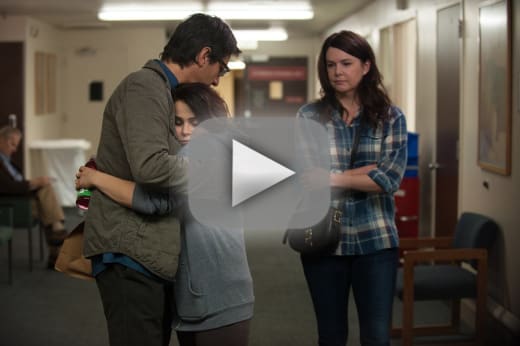 Whether we like it or not, Sarah and Hank are going to be a couple. With a rousing endorsement from Adam -- "I think you could do worse" -- as well as his thoughts that he hoped Max would find someone himself someday, Sarah's eyes were opened to the wonders of Hank. 
It helped that Amber dropped like a stone outside his shop when she received a call about Ryan and was about to drive 7.5 hours by herself in a distraught state but he offered to do the driving for her. Hank's a good guy. There is absolutely no question about that. Hank deserves someone to fall in love with him and all that he is. I just don't think that person is Sarah. It seems unfair to Hank to settle him with Sarah. Hell, I'd rather he be the father to her kids than be stuck with Sarah.
Oh well. 
I'm wondering what kind of accident Ryan was in and why he was back from his tour of duty so soon. It was rather quick, wasn't it? The commercial said it was a life-changing event. What was it? A car accident and surgery are hardly life-changing. I didn't notice any missing limbs. What did they leave out? Was he drunk? Did he get kicked out of the military? 
Julia immediately regretted sleeping with Evan, but also felt freed somehow. I'm not exactly sure what she was feeling, to be honest. It was kind of glossed over as if the writers were in a hurry to paint over it to thrust her and Joel into the same scenes again. "Just as she was willing to open her heart, the love of her life walks back into her life." Oh. My. God.
Julia didn't open her heart, obviously. Evan was kinda into her and felt badly when she brushed him off. Then when he said they were just having fun to try to play along with wherever she was trying to go with it, she said she wasn't just having fun. Talk about awkward. 
Peet, meanwhile, has apparently been draping herself over Joel and he didn't take the bait. That's good to know, but it still doesn't explain why he didn't want to go to counseling or try to work on communicating with his wife. There is so much about the story of Joel and Julia that doesn't add up. Sigh.
Crosby was golden. The way he tried to talk Joel into putting in his floor and later his conversation with him about the kids and Aida getting early acceptance to Stanford -- there is nothing Dax Shepard can do wrong. There needs to be a way to weave him into every open storyline. He needs more interaction with Sarah and Hank and Drew, for instance, to brighten up their space.
When Kristina got the news about Gwen at about the same time they were thinking of naming the school and was speaking at her bedside, it was obvious the school would be named in her honor. It's a lovely tribute and it will keep her focused on the project. 
Monica Potter portrayed her character brilliantly as she lost her friend. The pain and guilt she felt at being the survivor while someone she loved slipped away felt very real. When she was breaking down on the bed and Adam came in sporting his running gear, it was all the better because life doesn't wait for the perfect moment to tear you down. It just comes when it comes.
It was also very interesting that Kristina went to Bob Little to assist with landing the property. Bob pretended as if there was 'little' he could do, but he'll help her out. He owes her and he knows it.
We're down to the finale next week. The previews looked... interesting. If there's one thing I know about previews it's that they're relatively worthless. Not quite as worthless as the voiceovers that go with them, however. Haddie's coming home!! Until then, you can relive the entire season at any time when you watch Parenthood online!
Should Hank accept a life with Sarah?
Carissa Pavlica is the managing editor and a staff writer for TV Fanatic. She's a member of the Broadcast Television Journalists Association (BTJA), enjoys mentoring writers, wine, and passionately discussing the nuances of television. Follow her on Twitter and email her here at TV Fanatic.