And like that, another season of Suits comes to a close.
This installment had us on the edge of our seats, making Suits Season 3 Episode 16 one of the best this year.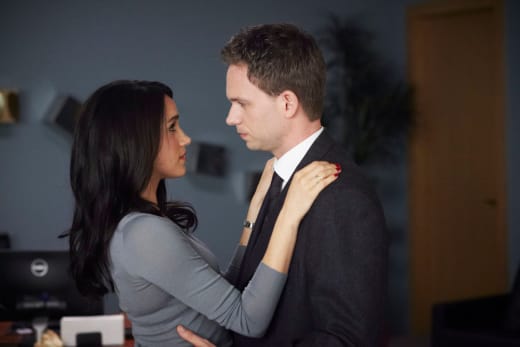 Above all, we learned that Pearson Specter is a family now, no question. While we may have known it before, the sentiment was actually voiced - and demonstrated - constantly in this episode from the very beginning.
One of the hallmarks of family is loyalty, and it was certainly tested on multiple fronts. Harvey struggled to choose between loyalty to Scottie and to the firm. And while in the end, as we expected, he chose the firm, how he handled it - and Scottie - signaled to me just how much Harvey has learned.
And how much he has changed.
I never thought I'd see the day that Harvey practically begged Mike to point the finger at him if worse came to worse and Mike had no other way out. That represented a huge shift to me. And a lot of love for, and loyalty to, Mike.
It's always been about Harvey and his reputation; anything to protect it. For once, he was out on the line and ready to protect Mike.
Which is what made Mike's ultimate decision to leave the firm so powerful. It's as if Mike recognized the gesture and paid it back. He said it himself, he didn't want to keep hurting the people that were most important to him. That certainly includes Harvey.
It also includes Rachel, who I wanted to be mad at for a while when she just wouldn't let it go that Mike wasn't ready to let go of the practice of law just yet. Then again, you can't blame a girl for not wanting her boyfriend to end up in federal prison. I would find myself leaning pretty strongly towards him leaving too.
What I really liked about Rachel's angst over the situation was Jessica coming in and calling her family, assuring her of her permanent place at the firm. Jessica has always been the least emotive of everyone, if only because she's very in control of her feelings.
To see her sit down and level with Rachel - of all people, after all they've been through on Suits Season 3 - was a nice way to close things out between the two of them.
The same went for the bit between Harvey and Jessica at the end. I always love when they refer to Mike as their "kid." They really do protect him just like he's their flesh and blood.
And in a way, as Donna intimated to Jessica, that's exactly why she let him through the door to some extent. She wanted to inspire something in Harvey, that truly has made Harvey is today - and that's someone we can all be proud of.
But I can't help but wonder: will this new foe in the US Attorney's Office prove that trouble will come whether Mike is at Pearson Specter or not? Could it be enough for Mike to come back and stay?
Those are all questions for Suits Season 4.
But in the meantime, grade the Suits Season 3 finale:
C. Charles is a TV Fanatic Staff Writer. Follow her on Twitter.