Nothing about this is right.
Those words from Abby were indicative of the situation on the Ark and on the ground. The crisis wasn't right, but it was their reality. Which meant difficult decisions needed to be made to prevent the extinction of the human race.
Over the first four episodes of The 100 season 1, we've seen some of the worst that humanity has to offer. On The 100 Season 1 Episode 5, people on the Ark and on Earth proved that the human race is worth saving. The true hearts of the characters were revealed.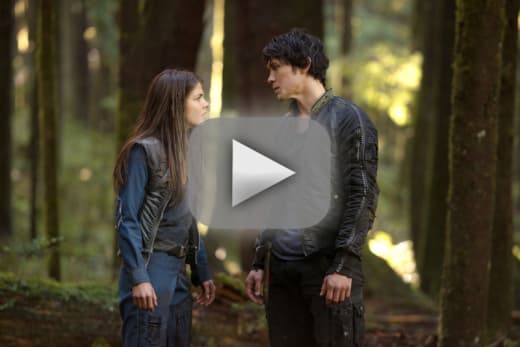 The truth about conditions on the Ark forced people to take a look at their actions and beliefs. Abby couldn't allow innocent people to unwittingly go to their death. It wasn't the burden of the few, it was a decision for them all to face. She followed her husband's conviction and released his message.
She was willing to take the risky action of telling the truth. The Ark residents could have turned on each other, but instead they looked at their own loved ones and sacrificed themselves. When the father walked in to volunteer for section 17 and then was followed by 100s of others, faith in humanity was restored. Despite the harsh rules, floatings, and deteriorating conditions, not everyone on the Ark was as disillusioned as those on the ground.
Father: I'm here to volunteer, I guess you'd call it.
Chancellor Jaha: Volunteer? For what?
Father: Section 17, sir. Anyway you do the math some of us gonna have to jump ship if everyone's going to make. I'm gonna jump.
"Twilight's Last Gleaming" was a crushing hour of television. It hit me deep in my heart. It wasn't just the willingness of the 300-plus to give their lives for others, but the impact this had on those in charge.
Kane is a pragmatist. He initially appeared to be a man driven by his ego, who wanted power. While that may have been partially true, now it appears he was never really a bad guy. He just believed that it was worth sacrificing a few in order to preserve the many. He was driven by this conviction to do right, but he didn't have faith in the people around him.
After all that Kane had done to try and be the leader, it was surprising to see him push Jaha to continue to lead the people and not give up. Their two interactions about the sacrifice and Jaha's inclusion were touching. These aren't extreme stereotype characters, instead they are multi-layered, flawed and authentic.
And that can also be said of the teens on the ground. Similar to Kane, Bellamy originally was portrayed as a dictator, who was seduced by power. While that may be partially true, his intentions weren't driven by that. He was protecting himself and his sister. Once he finds out that the people on the Ark were sacrificed, he will have to live with that guilt. 
Raven's arrival may stir up some troubles within the group, but she'll also provide important skills. I have high expectations that the interactions between Finn, Clarke, and Raven won't turn into a stereotypical love triangle. Feelings may be hurt, but there's so much more at stake. 
After dealing with Wells and Charlotte's deaths, the 100 worked together to find the radio and then to build the rockets. That teamwork will be necessary if they want to survive on Earth, especially if they are forced to battle the grounders. That fight is near. 
Octavia! This grounder didn't have any face gear on and looked ... human. While a new threat presented itself for the teens, the adults on the Ark may have a reason to hope. "Did you see that?" The rockets came too late for the 100s sacrificed, but it provides a new goal for those who remain on the Ark.
Whose actions surprised you the most?
Carla Day is a staff writer for TV Fanatic. Follow her on Twitter and on Google+.