The Americans Review: Who's a Monster?

Carla Day at . Updated at .
Nina was by far the best part of The Americans Season 2 Episode 7. 
I love her anytime she's on the screen. She's turned into quite a force to be reckoned with. She has gone from a woman forced to betray her homeland to a woman who has men on both side wrapped around her finger.
Both Stan and Oleg will go to great lengths to protect her. And, she's playing them both ... I think. That's the genius of her character. She's so good at manipulation, it's unclear what's real and what's not.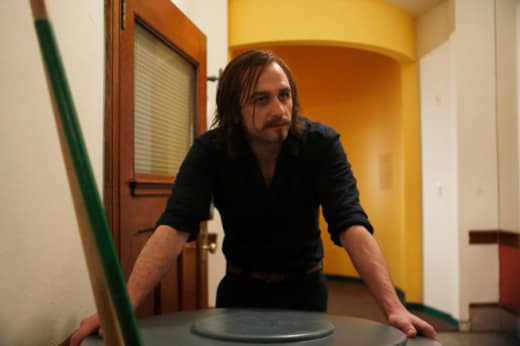 She did appear to love Stan until she found out he was responsible for killing Vlad. Was that enough to turn her against him? I'm not sure. During her briefings, she's always giving legitimate information to Stan and she hasn't done that the other way. Most revealing is that she hasn't ratted out Stan as Vlad's killer to Oleg or Arkady.
I was shocked to see her in bed with Oleg though. She grew closer to him when he trained her to beat the lie detector test, but prior to that she always seemed a bit disgusted by him and his come ons.
She definitely put her charm into high gear for him at the hotel. Maybe that's just what she meant when she told Stan that "I can handle Oleg." She hasn't been that intimate with Stan in a long time. I'm not going to declare she's changed sides yet, but that was definitely an indication that she may be shifting her loyalty back to her homeland. Either way, I love watching it all play out. 
When she was with Stan, I was convinced she really wanted to be with him forever. And, when she was with Oleg, I bought her seduction was sincere. I've enjoyed her storyline the most this season. More than anyone else, I want her to have a happy ending.
In comparison, Philip's mission to bug Arpanet was a rather standard mission. It was too bad he had to work with Charles Duluth though. That man is not a solid partner for an undercover mission. The real takeaway was that secrecy was the top priority. Philip had to kill a man just because he walked in a the wrong time.
It's a dangerous business. Charles may have been "exhilarated" by the spy business, but he didn't understand the real cost. Philip had to take a life to protect the mission. And, really, he was right. For what? Arpanet. At this point, it's value doesn't make any sense to Philip. Elizabeth called Larrick a monster, but what does that make Philip? 
Larrick continued to help provide information about the Contras training program in the US and going forward in Nicaragua. While this was something going on at the time, I would like the show to explain a bit more about why it's important and what Philip and Elizabeth are supposed to do. That's likely coming up, but so far it's been mostly a lot of meetings. 
One last thought, what was Henry doing breaking into his neighbor's house to play video games? Just taking advantage of the empty home? Will his parents believe he's been taken when they can't find him? It just seemed odd, but I'm sure it will end up being important.
Who is Nina loyal to?
Carla Day is a staff writer for TV Fanatic. Follow her on Twitter and on Google+.