The Blacklist Review: In Sickness and In Health

Sean McKenna at . Updated at .
The truth about Tom will soon be fully revealed.
Who is he working for? What is with Berlin? Why is Liz connected at all?
That enigmatic mystery that surrounds Liz's husband grows larger with each passing episode, as crumbs of information leak out for Liz and Red to try and connect the dots.
It's good to see the two working together, but are they really? Red says he doesn't know what's up with Tom besides what Liz pretty much knows, but is he just lying? Should she even trust Red?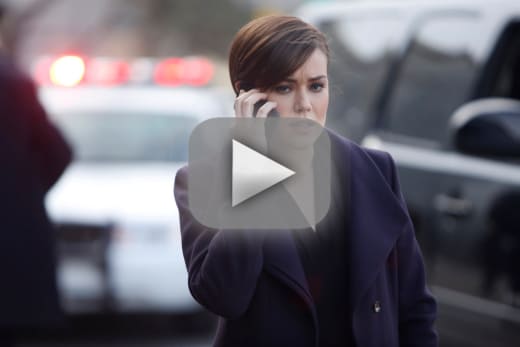 Either way, until Tom explains who he actually is (not the teacher with the estranged brother cover), Liz is going to get further in league with Red. I just wonder if Tom is being made to look like a "bad guy" since we as viewers don't really know the complete story.
I can certainly imagine the anger and frustration Liz must be feeling with learning Tom isn't quite who he says he is. And seeing her tear the room apart was the perfect illustration of her emotions.
Her dedication and drive on any task is not something to be underestimated, so making it even more personal is going to push her even harder.
It made her smack down entrance to talk to "Craig" that much more exciting. Liz was in full on attack mode, and even though the fake brother got in a few good moves, she managed to win out and deliver a great one liner before it cut to commercial.
Granted, we really didn't learn too much from Craig/Christopher besides getting calls from people without names, Tom's got a brother in Chicago, there's a woman named Nikki and being "accountable to Berlin" doesn't sound friendly. Is Berlin a place or a person?
It's no surprise that Red was able to find a pressure point to make Christopher talk (using his mother), but it was a shock to see him throw himself out the window. Though, Red's reaction was darkly comical and suited the moment. Good thing he grabbed those pretzels, too.
What we really have so far are just a bunch of random pieces, such as that key, and questions to keep us and Liz guessing and coming back for more. I can only imagine where the show is planning to take it all as we near The Blacklist Season 1 finale.
As for Liz pretending to still love Tom? Some of her comments about his identity and their relationship border the obvious, but yikes at having to play the newlywed part and sleep with him when she can't stand to even look at him.
It's going to be tough for those two to keep it all together.
The case of the week on The Blacklist Season 1 Episode 18 ultimately played into the final moments with Red wanting to look at Milton Bobbit's client list, but even that didn't tell us anything.
The Undertaker himself had an interesting assassin concept with the murder/suicide, but by the end, even with his creepiness, it just wasn't as intriguing as the larger story. At least, there wasn't the overplayed "hero" moment of Ressler putting himself in harms way to stop Milton. I liked seeing the arrest instead and letting Milton go out on his own.
Still, it is that larger story that sucks me in, and each time James Spader brings Red to life that you can't help but want to see what he does next. I just hope that we get some more solid clues that lead the story and Liz somewhere, and maybe, in discovering the real identity of Tom and his mission.
Does Red know more about Tom than he's letting on?
Sean McKenna was a TV Fanatic Staff Writer. He retired in May of 2017. Follow him on Twitter.