The Following Season Finale Review: Dinner for Psychos

Sean McKenna at . Updated at .
There's no doubt that The Following Season 2 featired a promising and entertaining first half that reinvigorated the series.
And yet, as if it couldn't help but follow the path of The Following Season 1, the second half seemed to fall apart on its inevitable journey to a Ryan and Joe final face off with stuff that really ended up not mattering thrown in along the way.
And like The Following Season 1 Episode 15, The Following Season 2 Episode 15 ultimately came down to saving Claire.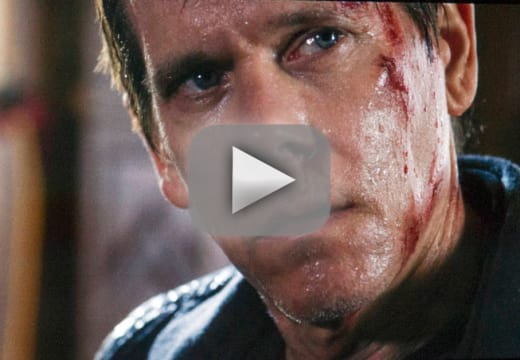 Which made the whole religious cult and fight with the televangelist feel like a waste of time.
Luke had it right when he said that the grand finale at the church was an "epic fail." And in true fashion, the FBI came in at the last minute and wiped out the remaining followers to tie up that story.
And yes, there was a cool car crash sequence, but that too was just another bump tossed in for good measure. Was it even necessary or simply there to try and surprise viewers?
Then, because we haven't had Ryan and Joe in a buddy-cop episode, the adversaries teamed up to hunt down the twins. The enemy of my enemy is my friend, right?
Good thing Ryan and Joe didn't fall into the trap, even after Ryan predicted that it could be a trap. No? They fell for it? Bummer.
That, of course, meant a dinner for psychos in a round-robin therapy session of shouting, monologues, secrets and Joe putting on his sarcastic background banter. All to save Claire.
But there was a certain intensity and captivating atmosphere to the scene, even if much of it still felt ridiculous.
Sam Underwood mastered the creepy in playing the twins (and did a great job in making them two very distinct and different characters), and he amped up the dinner conversation. There was a clear command and a tension involved with each gun point, steely stare and click of the trigger.
Joe was surprisingly funny with his comments and reactions as the twins tried to divulge the plan and importance to the overall story. It's just too bad he wasn't Ryan's good guy partner, but instead the sociopath that had only recently killed Preston because he was crying. I still find it hard to believe the two so easily teamed up even if I enjoy watching their chemistry.
As for Ryan, it was good to hear about his past, to hear about him getting revenge and then seeking forgiveness and redemption. Was the whole concept perhaps a bit forced? Sure, but the end result was that Ryan was able to win, able to overcome and grow. He didn't have to kill Joe.
It's just too bad that Claire, who decided to come out of hiding and shock Ryan (only to then be captured), put Ryan's life in danger to save her... only to see her killer husband locked away and then choose to dump Ryan because she's his past. Really, Claire?
Her character is so frustrating to watch.
And as much as I can only hope that Claire and Joe are done and gone forever, I've got a feeling at least one of them (Joe) will find a way back into Ryan's life.
Oh, and Mike and Max kissed, so start your shipping now. Although, the two always had good chemistry, so it was only a matter of time.
I was definitely wrong about Max's survival for the season, but I'm pleased that turned out to be the case. I actually liked her addition to the team.
But then there was that cliffhanger of Mark getting picked up by someone. But who? Is it the next big bad? Or at this point does anyone really care?
I appreciate Ryan's closure and seeing him attain the victory without killing Joe, but it doesn't excuse the mess that led up to the final hour of The Following Season 2. Too many shock value killings, pointless mini-quests and plenty of characters making really bad decisions plagued those latter episodes.
So sure, there was some positive light at the end of the tunnel, but enough problems kept the finale from being some satisfying conclusion.
Maybe third time will be the charm for The Following?
Should Ryan have killed Joe?
Sean McKenna was a TV Fanatic Staff Writer. He retired in May of 2017. Follow him on Twitter.