The Mindy Project Review: Peters Never Win

Chris O'Hara at . Updated at .
Initially, I wasn't on board with Mindy's lack of confidence and dire dating outlook. I know the breakup with Danny was hard, but letting Betsy set her up on a date?
The rest of The Mindy Project Season 2 Episode 19 more than made up for it's questionable opening, though. Thanks so much to New Girl for loaning us Max for an episode.
At first I wasn't sure if he and his Schmidt character were guest starring or if Greenfield was playing a totally random role. The scarf did not help, either. It wasn't long, of course, before we learned Mindy was hitting on Lee, a first grade teacher who had no problem staying out late on a school night.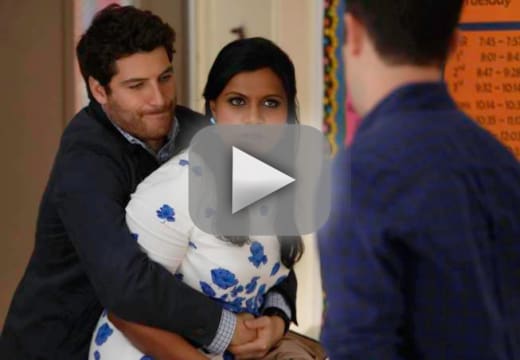 Mindy was actually holding her own as she regurgitated Peter's lines to Lee. The laugh she produced from him after spewing her whiskey all over him a second time was a party foul well worth the flag.
I would love to see the outtakes from that scene. They had great chemistry there at the bar. I especially liked how Lee came down to Mindy's level of embarrassment.
My mother was insane so I'm kind of attracted to this. Not that I want to sleep with my mother. That was weird how that came out.


Lee
The confrontation later at the school ending with Peter punching Lee was ah-mazing and came complete with a hall monitor. Loved it.
Danny's struggle to find someone to confide in him was a tad sad, but he brought it on himself. I love me some Dr. C, but first he dumps Mindy and then this week steered Tamra away from Morgan? No sir, no good, especially after hearing how she felt about Morgan.
Tamra: He's cute, he's nice, all Pros, no Cons. Uh I mean, he's an ex-con, but that's a Pro.
Danny: Uh I don't know if that's-
Tamra: That's a Pro!
Danny: OK.
If you ask me, Morgan let "Doctor Castellano" off easy. For all his quirks, he is really is so loveable, especially after he referenced 227, also one of my favorite shows growing up.
I've always been so into black women. I used to watch 227 when I was a boy. I fell in love with Jackee.


Morgan
For Mindy's sake and ours, I hope office romances aren't all foreign cars, but I am fine with seeing Mindy and Danny grow on their own separately.
In the meantime, there are plenty of other characters we could watch hilariously pursue love. There is also always the potential for some crazy patients at the practice, which I think they could explore more.  
What sayest you?