The Mindy Project: Season 2 Episode 21 Online

Chris O'Hara at .
Mindy continues her break from men and has some elective surgery. Still under the influence of the pain meds, she is picked up on the street by Charlie, who takes her home and helps fix some things around her place.
Mindy decides later she wants to buy an apartment.
Danny becomes jealous when Mindy begins spending time with Charlie. He is able to keep tabs on her after she moves into his second apartment to see if she wants to buy it. Danny bursts in on her and Charlie. Charlie leaves upset.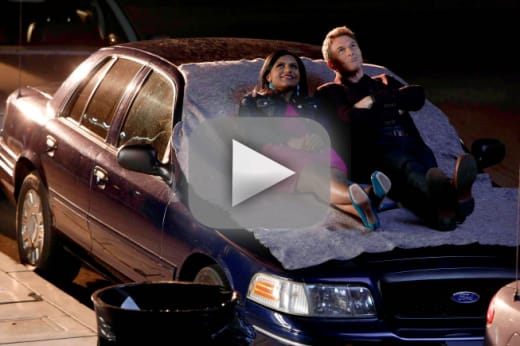 Peter asks Jeremy to set him up with some British girls. Jeremy invited Peter to a party where he hits it off with the only other American there and asks her out. She says yes, but then he finds out she is a mother. On their date, Peter is not used to being out with an interesting and intelligent woman. He is disappointed the next day when Jeremy tells him Lisa is not interested in seeing him again. Peter interrupts her at work to ask for a second chance.
Mindy asks Charlie out on an official date. Danny comes over as she is about to leave. She tells him where she is headed and he tries to kiss her. She tells him off for acting on his feelings only when there is another guy in the picture. Mindy and Charlie watch a meteor shower together.
Watch The Mindy Project Online to see it all unfold.