The Real Housewives of Atlanta Review: Sexy Spanx?

Christine Orlando at . Updated at .
The season finale swung from one end to the other as The Real Housewives of Atlanta Season 6 Episode 22 gave us a funeral, a musical, and some failed sexy talk.
We recap the tears and cheers in our +/- review...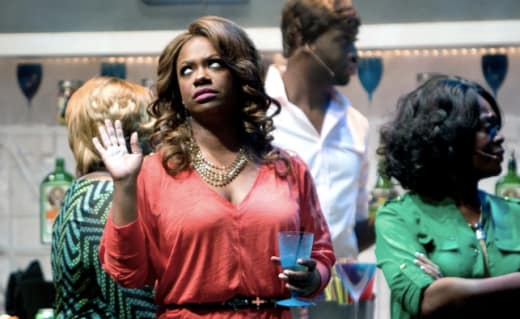 It was Kandi's big night as the premiere of her musical, A Mother's Love approached but before we get to that, a big plus 25 for Kandi's t-shirt, "More Issues Than Vogue"
So appropriate for a Real Housewife. 
It did feel as though Todd balked a little at during the talk of a pre-nup. Minus 10 but hopefully they worked that out. Especially since we hear the two got married this month!
Speaking of marriage, Porsha and Kordell's is over. The divorce was finalized when Porsha decided to forgo alimony and go it on her own. Perhaps they pay Real Housewives more than we thought.
But Porsha's performance during the musical was way better than we ever anticipated, especially since she missed so many rehearsals. Plus 17. Maybe there's a career in her future after all. 
If not, rumor has it she's snagged herself an African tycoon. Maybe she and Kenya are using the same online dating site.
Speaking of Kenya, she had a funeral for little Velvet and all of those clips of that cute little dog got to me. Somebody pass the Kleenex. 
I just wonder why her African prince wasn't there and why the couple is waiting until June to start in-vitro when Kenya seems so darn eager for a baby right now?
Phaedra ended the season with plans to open her own crematorium and no plans to defend Apollo on his fraud and identity theft charges. Plus 22.
Cynthia decided to take her sister's advice and ramp up her love life with Peter, only it didn't go according to plan. It's hard to get in the mood when your man laughs at you and asks, "How are you going to be sexy with Spanx on?"  Minus 31.
NeNe wasn't around much this episode. Apparently she was too busy being admitted to the hospital for a collapsed lung!  How the heck did that happen?
Thankfully she's recovered fully and currently working on Dancing With the Stars. Plus 13.
Back to Kandi's musical, it sold out five shows and was a great success. Even Momma Joyce decided to bury the hatchet and agree to disagree when it comes to Todd. Plus 18 because that's about the best Kandi's going to get from her Momma.
Episode total = +54! Season total = -1217!
What do you think TV Fanatics? Was Peter's comments about the Spanx out of line?
C. Orlando is a TV Fanatic Staff Writer. Follow her on Twitter.