The Real Housewives of New York City Review: Horror Show in the Hamptons

Christine Orlando at . Updated at .
It was a horror show in the Hamptons when Sonja took the stage.
But but there was a blood bath behind the scenes on The Real Housewives of New York City Season 6 Episode 4. We recap the entire hot mess in our +/- review...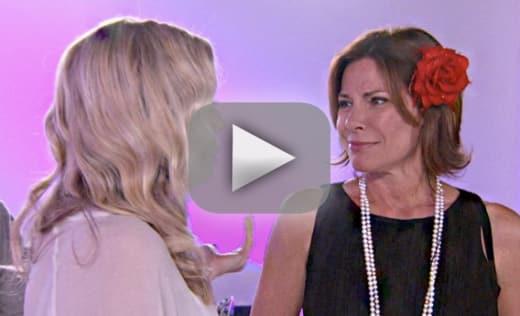 The ladies head to the Hamptons to support Sonja in her cabarlesque show. It was cabaret meets burlesque meets Sonja. Minus 30 because it was darn scary.
Did everyone pay money to watch Sonja get on stage and shake her ass?  There was no script. There was no show. There was just a scantily clad Sonja rambling on about her ex. 
Thank goodness the proceeds were going to charity because that show was downright painful.
Sonja's entire life is just strange. She's got an entourage of unpaid interns. She lives in an expensive brownstone in the city but can't afford to turn on the hot water. We wonder if she'll turn in to a crazy cat lady (or dog lady) eating tuna fish straight out of the can. Minus 22. It's kind of scary. 
But we'll give Sonja the memorable line of the night. "The underwear's just so far up my ass you just couldn't see it." Classy Sonja, but at this point we expect nothing less. 
The better show was on the beach as Carole, Heather, and Kristen hit the waves to learn to surf. Plus 15 to Kristen and Heather for getting up on those boards so quickly. 
And Plus 21 to Carole for getting her flirt on with the cute surfer dudes. 
A big plus 40 to watching the ladies struggle into their wet suits. We wonder if that's what it looks like when they put on their skinny jeans.
Countess Luann returned and threw a party for the ladies. She's probably wishing she could go back into hiding. 
Aviva brought along new friend Amanda who is an image consultant. Seriously? The woman was horrible. 
Amanda was obnoxious, rude, and confrontational. Minus 25. Wherever she came from we wish she'd go back.
And Amanda is yet another Harry hanger on. What is it with this guy? We're with Kristen on this one. Harry's OK but he's no George Clooney. Minus 17. What's with all the fuss?
Amanda may have met her match in Heather. When the Aviva / Carole battle rears its ugly head once again, Heather and Amanda get sucked in and Amanda tells Heather not to go down this path.
What path? "Being an asshole." Minus 23. There's an icebreaker. Then she tells Heather to walk the f**k away.
That's not about to happen. 
As Amanda storms off she threatens to deck Heather in the face. If she thought that would scare Heather off, she was dead wrong because Heather was hot on her heels and she wasn't backing down. Plus 22.
Episode total = -19!  Season total = -59!
Was Sonja in the right to try and make Aviva and Sonja reconcile?
C. Orlando is a TV Fanatic Staff Writer. Follow her on Twitter.