The return of Ragnar's son, Bjorn, as a teenager with raging hormones meant it was just a matter of time before a young lady caught his eye, right?
Well, tonight on Vikings Season 2, we meet the object of his desire in slave girl, Porunn, played by the lovely French actress Gaia Weiss.
Below, Gaia shares a few thoughts on her character, joining this drama, the physicality of the role, whether Porunn is based on a historical person and much more.
Meet the latest addition to the cast and get to know Gaia a little bit better before her big Vikings debut.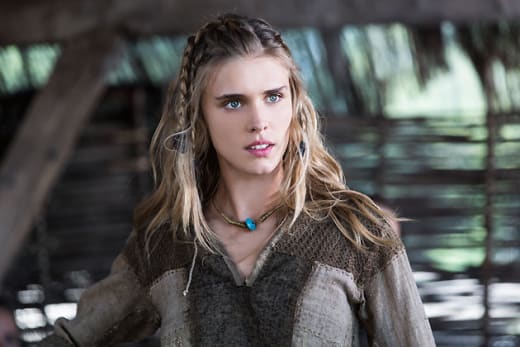 Gaia's character, Porunn, is a slave and has been in Kattegat all along. Though the audience has not met her yet, she is property of the Lothbrok family.
"Her parents were captured in a raid and therefore she's been a servant all her life. She's one of these teenagers that are a lot more mature, she's already a woman. She's been through a lot," Gaia explained via conference call this week.
Now that Bjorn is once again living in Kattegat, he notices the pretty young slave girl. Gaia goes on to say that the relationship "kind of challenges the taboo or the conventions because he's from a higher rank and she's a slave. They are not really clear about their relationship. At first it stays secret for a while."
It will be interesting to see Ragnar's reaction to his son falling for a slave girl. If you recall, Lagertha has gone back to Earl Sigvard in Scandinavia, but I imagine she will not be too pleased when she learns the news. It makes sense the couple would keep things quiet for the time being.
Gaia auditioned for the role of Porunn last July via a videotape. The show's producers asked her to visit the set for a chemistry test with Alexander Ludwig, who portrays grown up Bjorn, and "that was that," she says.
Not too shabby for an up and coming actress. Vikings is actually Gaia's very first television series.
As far what her first day of filming was like, Gaia remembers it as pretty stressful. However, she learned something everyday from the amazing cast and crew.
"Most of the actors already knew each other from the first series and the beginning of the second. I didn't know anyone. My first day on set was really physical, you're going to see it in the first episode." As a slave she's required to lift and carry heavy objects, so she built up a few muscles while on the show and hit the gym regularly. She also has a dance sequence in her debut episode, which she found "a bit nerve racking to dance in front of everyone."
Gaia described the immersive set of the Vikings world as "absolutely wonderful." She went on to say that "when you look around you, it is a village. It's not green-screen or blue-screen, everything around you is just the Viking world. It makes it a lot easier to act and really believe in what you're doing."
I was extremely glad to hear that Michael Hirst is present on set to guide the cast and crew. This show is his baby, after all, and no one knows these characters quite like Michael does.
"When I arrived I had many questions about my character and he [Michael Hirst] was always there to answer" Gaia said.
Porunn is a character created specifically for the series. Unlike Bjorn, the young slave girl is not based on a historical person.
Gaia sees Porunn as another strong female character in an ensemble known for its positive and powerful representation of women. Being a servant her whole life has not been easy for Porunn, to say the least.
As a slave, she's probably lived through her share of brutality and even rape. Still, like any young woman, she has hopes and dreams. Though she has a difficult time accepting that Bjorn's interest in her is genuine at first, I imagine this relationship will change Porunn in unexpected ways.
Gaia describes Porunn as "a really complex and challenging character."
Speaking of strong women, Gaia also mentioned that "all the women in the village are fascinated by Lagertha." She's a very positive role model, not just for characters on the show but for young female viewers as well.
Though she was raised on Viking myths and legends (her mother is a huge fan of the Viking era) Gaia was surprised to learn Lagertha's personality was not exaggerated. "The women at the time, even though they were not all raiding, they were kind of ruling men in the village" she said.
So, will Porunn become a shield maiden? At this point it's doubtful because being a slave that just seems so unattainable to her. "But she'd dream of that," Gaia noted.
Now that Vikings has been renewed for Season 3, who knows what the future holds for Porunn? If her relationship with Bjorn works out, perhaps they get married and have a few tiny Vikings of their own. Picture Porunn training to be a shield maiden with mother-in-law Lagertha. How great would that be?
In the meantime, we'll have to wait and see how things play out and if Ragnar and Lagertha approve of the young love birds.
Remember to come back here after the show airs for my weekly review. If you missed last week's episode, you can watch Vikings online right here at TV Fanatic.
Do you think love will distract Bjorn from becoming the warrior he's meant to be? Hey, love didn't seem to hurt Ragnar Lothbrok too much. Perhaps this relationship will only make Bjorn stronger. Hit the comments and let me know what you guys think.