24 Producers Tease Brutal Villain to Come, Living Yet Another Day

Christine Orlando at . Updated at .
Jack is back!
Following the success of the 24: Live Another Day premiere, we spoke with producers Manny Coto and Evan Katz to find out why the time was right to bring 24 back, whether the tried and true formula will change and what's next in the 24 universe.
------------------------------------------------------
Why was now the right time to bring back 24?
Evan: It's one of those confluence of events situations. I think there was an appetite from the network. A willingness on Kiefer's part and there was enough of the original writers / producers, Manny and myself, David Fury, Howard Gordon who were able to do it. Manny had just gotten off three years on Dexter. I had just gotten off a cancelled show. So it just kind of happened, in that certainly if we hadn't all been available it might still have happened but it probably wouldn't have looked the same. 
Manny: I also think that there was a curiosity amongst all of us. We all love the show. We loved working on it and there was still a kind of underlying curiosity for us about what Jack was up to in those four years. We loved the idea of finding out. 
There were rumors of a 24 feature film. What's the status of that?
Evan: We don't know. We have not heard…this became the next phase of 24, so whether the feature film will spring from this or whether it will not happen or whether this will be the end we really don't know. We've heard nothing.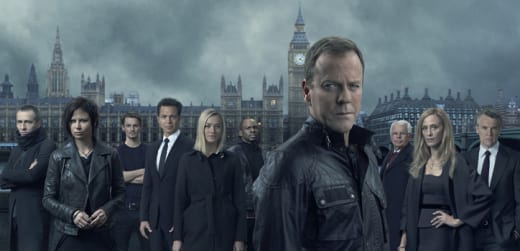 Was there a concerted effort to use the same formula that fans are familiar with? Being that there are only 12 episodes, will that format change at all throughout the season?
Evan: The show will always be in real time but we also always intend on covering 24 hours, so at some point there'll be a jump or jumps but to give anything away would be to make you very sad. 
Manny:  We actually did very much, although we want to for certain things to feel fresh, character situations, location. We really wanted to create the old feeling of 24. We didn't want to tune in and say, What's this? We wanted people to tune in and hear the familiar beeps, the familiar real time announcement. All the stuff that we loved about the show that we still feel is great and what made the show special. We wanted it to be there. We wanted it to be as if the show had never ended. I knew the fans were out there and they wanted to see it and they wanted nothing more than to see their old show back the way it was. 
The CIA is very reminiscent of what CTU was in the original series, with the look and feel of the office and the characters. Was that something you were trying to replicate?
Evan: Well, we've had a couple of different looks for CTU. The last year we had a sort of two-story, modern one that felt very compressed that we weren't in love with, I think at the end of the day. So this is sort of in some way a return to the most classic CTU but also we really wanted to honor the London of it and the idea that an American CIA station in London would have taken an old space, a found space and adapted it to their purposes.
In fact, we're shooting, I probably shouldn't say where we're shooting. We're shooting in an old factory in West London. Picking up a lot of those details in the architecture.
What made you decide to have 24: LIve Another Day take place in London?
Evan: It's cool.
Manny: When 24 season 8 ended, Jack was a fugitive on the run, as you well know. We felt that taking Jack out of his country, literally a man who is not only hunted but has become an expatriate, who has left his country and can no longer go home is a great place to find our character. We chose London for a number of reasons. It's a fantastic city. The fact that people speak english helps in the story telling. The idea of London being an ally. England being an ally to us allowed us to create a story with the President so it felt perfect for this special event. 
Was the similarity in appearance of Yvonne Strahovski as Kate Morgan in this season to Sarah Wynter's Kate Warner from 24 season 2 simply a coincidence because it definitely has fans talking?
Manny: It's a complete coincidence. 
Evan: We don't actually see it much. We didn't really notice it until fans started commenting on it but there was nothing deliberate on that. 
Manny: Yvonne Strahovski I had worked with on Dexter and found her to be tremendous and thought she'd be great in this part. She was actually the first person we considered and got all excited about. So it was simply that.
The U.S. government views Jack Bauer as a terrorist yet he still fights to save the President. What keeps Jack going?
Evan: Well, you know he says something in episode 3 which you haven't seen yet which I think is a little bit of a window into why he's still a hero. But you know, he kind of went off the deep end for personal reasons and sowed his own revenge at the end of 24 Season 8 but in our minds that was an anomaly and he is always and will always be a hero who is not concerned about himself. 
Will Jack ever be allowed to have a personal life?
Manny: It's an interesting question. One of the things that we've done and that Kiefer is really played are the losses and the miles that the character has experienced. So the character has become more toughened. He's become tougher, more of an outsider. His feelings are harder to get to the surface but you know, never say never. 
What happened to Chloe? Will we find out if Morris and Prescott are OK?
Evan: Episode 3!
Manny: What's happened to Chloe is a very radical change and there is definitely a reason for why she is where she is.  As Evan said, episode 3 will begin to answer those questions in a very dramatic way. 
Is there anything you can tease fans with about what's to come?
Evan: I would say that we have one of the most engaging and brutal villains that we've ever featured on the show and much of what she does is actually very hard to watch so there's plenty of thrills in that department. 
Are there any plans for more 24 after this run.?
Evan: No plans right now. There are no plans in place. Manny and I need to take a vacation that's the plan.
C. Orlando is a TV Fanatic Staff Writer. Follow her on Twitter.